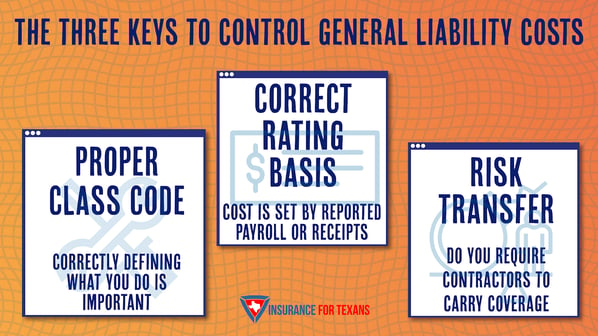 Let's face it, owning and operating your own business will continuously pose opportunities, challenges, and risks.
Product, service, people . . . each poses inherent variables that even with your best intentions can go sideways.
As your business grows, adding a variation of what your business offers in the form of service or product can also introduce more risk as you scale.
Even if 9 out of 10 things go well for your business, that one that doesn't can prove very costly. General liability insurance helps to protect
your business from a variety of risks, including injury to customers, customer property damage, and even advertising injury. While keeping
your business protected from the high expense of lawsuits, there are some other benefits, including helping you to qualify for leases and
contracts with the protection these policies provide.
As with any business expense, you will want to know ways to control costs, even if it means finding out more about this type of insurance.
That's why Insurance For Texans looks to educate you whether you are a client or not. The more informed you are, the better choices you
make as an insured. The better choices you make as an insured, the better the options you have from insurance carriers. The better
options you have from insurance carriers, the better it is for a local, independent insurance agency to help you find those options for
coverage.
Let's take a look at some ways to control general liability costs.
Proper Class Code
Are you correctly defining what you do when contracting for a general liability insurance policy? This is important to make certain your
carrier knows how to correctly classify your business. Businesses have different risks associated with them. General liability class codes are used by
insurance carriers to assign a rating to particular businesses and industries related to the risk of the type of work done.
Correct Rating Basis
Are you setting general liability insurance costs by sharing reported payroll or receipts? Making sure you are correctly grouped related to risks/hazards is one
of the ways insurance carriers evaluate you for determining rates. You will also want to provide other helpful information, including (but not limited to)
company payroll, gross sales receipts, size of your property, and the number of employees. The more receipts, the more customers. The higher the payroll,
that usually means the more employees. Both of these tend to bring more risk in the form of the likelihood of a claim or claims.
Risk Transfer
Do you require contractors to carry insurance? Many businesses will utilize contractors, sub-contractors, vendors, and other service providers to conduct
business in an efficient and cost-prohibitive way. By adding other businesses into the mix of your business, you increase your exposure to risk and will want
to have protection in place while keeping the cost manageable. Transferring risk off of your business and placing the liability where it belongs (with the
service providers you do business with) is a strategy that could prevent you from taking on the high costs of legal expenses if a
customer incurs injury or damage resulting from the negligence of the service provider. You will want to have these relationships determined upfront before
contracting with the service provider and expect they would work with you in this regard to provide their own insurance if they are reputable.
General liability insurance is necessary to protect one of your greatest assets . . . your business. Knowing it is usually one of your larger payments to protect
your ability to continue making revenue, we still like to think of ways to control those costs and share them with you. At Insurance For Texans, we are small
business owners ourselves. If you want to talk more about your current coverage and see what we could do to help you manage this important business
cost, let's chat. We're glad to look out for you.
It's a Texan thing to do.