Whether you own an auto repair shop, a retail store, an accounting office, or many other Main St businesses here in Texas, a business owner's policy is a great insurance solution for your business. It doesn't matter if you are in Amarillo, Austin, or Fort Worth, the businesses that we work with find financial protection from the things that occur daily in their business!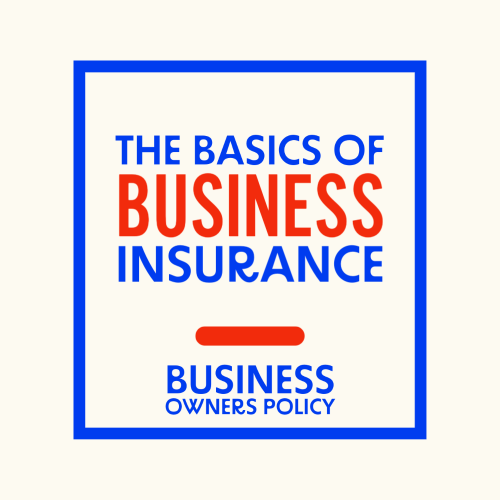 A Business Owner's Policy, or BOP as it's commonly called, combines business property and business liability insurance into one single insurance policy. BOP insurance helps cover your business from claims resulting from things like fire, theft, or other covered disasters. Business owners' insurance also helps cover claims that could arise from your business operations, from bodily injury to personal injury and advertising injury.
However, BOPs do NOT typically offer professional liability insurance, commercial auto insurance, worker's compensation, or health and disability insurance. You'll need separate insurance policies for the types of coverage you will need for professional services, vehicles, and your employees.
Essential Coverages in Business Owners Insurance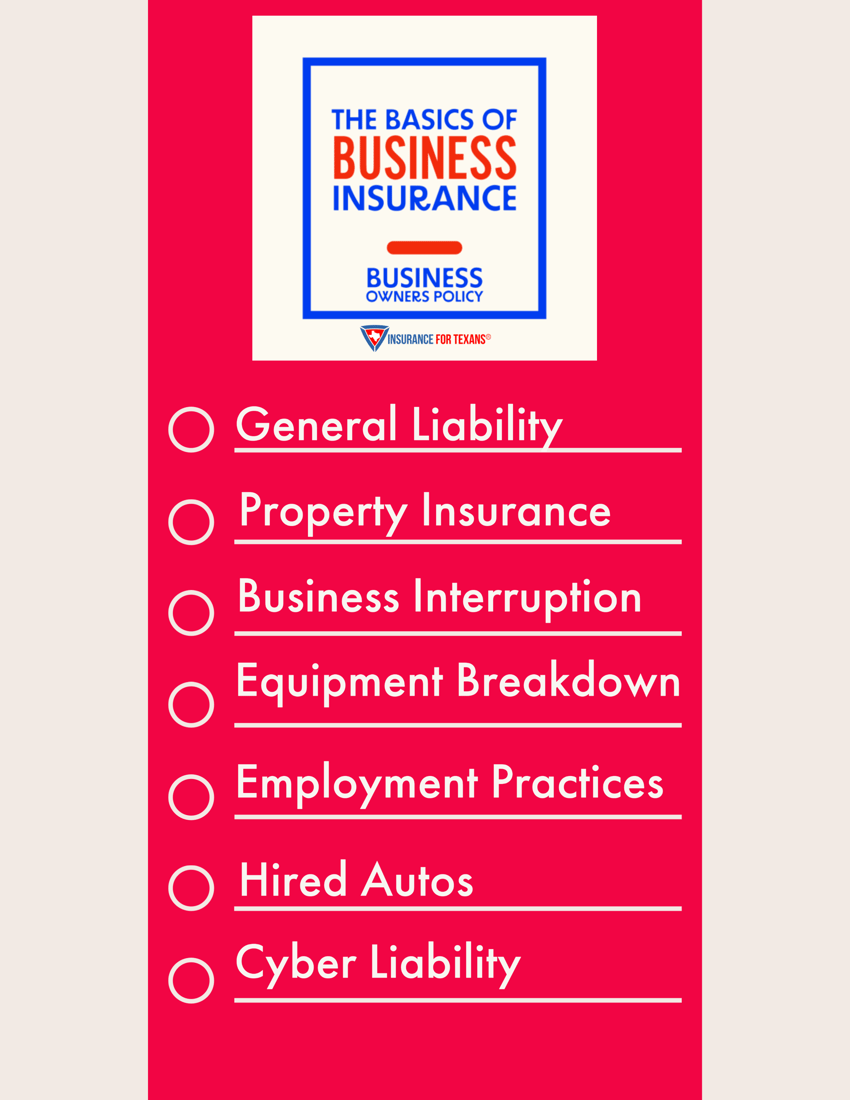 One of the main advantages of a business owner's policy is that the policy includes a number of important coverage types under a single policy form. Some of the typical coverages included with a business owners policy include:
General Liability
This protects your business from claims regarding both property damage and bodily injury. These can include a wide range of incidents, including slip & fall accidents, damaging a customer's property, and the legal defense costs associated with these. Medical expenses that are generated from a customer would fall under this line item of coverage for many Texas businesses.
Property Insurance
Commercial Property Insurance covers you if buildings and other structures you own or are responsible for are damaged or destroyed. This portion of your policy also protects your office equipment, business equipment, and inventory from a covered loss. Property damage coverage is vital whether or not you own a space since you likely cannot perform work if your equipment is destroyed.
Business Interruption Insurance (Loss of Income)
What do you do in the event your business is shut down for a prolonged period of time? Business Interruption Insurance protects your income and provides help for ordinary payroll expenses for a time period generally up to one year if your business is shut down due to a covered loss.
Equipment Breakdown
When your covered equipment breaks down or is damaged by a covered claim, your policy pays to repair or replace it. Most commonly, this applies to sudden and accidental damage due to short circuits or power surges. But this special property coverage can make a difference in getting your operations back up and running quickly.
Employment Practices Liability
EPLI protects your business from claims or lawsuits made by your employees, on a wide range of topics. This can be anything from harassment and discrimination (even in the hiring process), all the way to wrongful termination or failure to promote. This liability policy is one of the most important insurance coverages that your business can have because employees may not understand what you said or did.
Hired/Non-Owned Auto Liability
HNOA coverage applies in two main scenarios: one, it provides liability coverage for any vehicles your business rents/borrows/hires. Second of all, and perhaps much more critically, if your employees drive their own vehicles for work use (including one-off trips to run an errand), this would provide coverage for your business, if brought into a lawsuit for injury or damage caused by your employees.
Cyber Liability
Cyber liability insurance protects your company from data breaches and cyber attacks, which are becoming more and more common in today's world. If you are the victim of such an attack, you could be subject to significant regulatory fines and loss of business income in a worst case scenario. Our policies have options to cover these fines, as well as potential lost income resulting from said cyber attacks. And in some cases, can even cover replacement of equipment damaged in the process. One thing that should be noted about Cyber Liability coverage, if you have significant exposure and need higher coverage limits it will likely make sense to have separate policies for this coverage. Individual Policies will typically be more robust than a BOP and provide the expanded optional coverages that you need.
Other Notes About Your Business Owner Policy
An additional advantage to BOPs is the enhancement endorsements they include. Often carriers will include their own personal enhancements to provide a number of additional coverages in bundled insurance packages. These enhancements include coverage for things like signs, employee dishonesty, accounts receivables, money & securities, outdoor property, and much more. These coverages are provided in one affordable comprehensive coverage form versus the alternative of adding each coverage line individually.
How Pricing is Determined
As with nearly all insurance policies, claims history is undoubtedly a factor in the cost of your Business Owner's Policy premium. However, several other variables come into play as well. When we tailor a policy to fit your specific type of business, we will discuss things like the total annual revenue of your business, the number of employees, the replacement cost of the building (or the portion you are responsible for), and the inventory/contents/equipment onsite. Even if your existing policy is not renewing in the immediate future, it may be beneficial to have a mid-term policy review, as we do with our existing clients, in order to get ahead of any upcoming changes to your policy, and avoid surprises when your Business Insurance Policy renewal does come.
As an independent insurance agency, Insurance For Texans is able to compare across multiple insurance companies to determine the best fit for your business' needs. We do this while also finding you the most cost effective option for your commercial insurance. Working with the top national carriers with names you can trust, such as Travelers, Hartford, Chubb, and Liberty Mutual allow us to help you sleep at night. Commercial Texas insurance can be intimidating and overwhelming, but we do our best to simplify the process and give you peace of mind, so you can keep your focus on what you do best in leading your business to success.