Of course, we love serving Texans all across the great state and are thankful to live right here in Dallas/Ft. Worth area.
We know many of you may call Texas home for the first time this Thanksgiving.
What makes for a great Thanksgiving in Texas?
Here are a few of the things we find special:
The Food
From traditional Thanksgiving dishes like turkey and stuffing to Texan staples like BBQ brisket and tamales, there is no shortage of delicious foods in Texas.
Smoked, grilled, fried, sous vide . . . it doesn't matter the preparation, you are certain to find something that will tempt your taste buds.
If this is your first Thanksgiving in Texas and you've been invited somewhere, don't be afraid to try that unfamiliar meat preparation or side dish.
It might just become your favorite new thing!
The Weather
Texans usually enjoy mild temperatures around Thanksgiving.
This usually means being able to play out in the yard with the family or walk off a bit of that holiday meal afterward.
Though we have a bit of rain here in DFW today, it's perfect for watching football and movies while having dessert.
Yes, please.
Texas Hospitality
Texans are known for their friendly, welcoming nature.
It's the perfect time of year to visit some of the state's destinations and quaint shops, whether in Grapevine, the Hill Country, or down along the coast.
You are sure to find amazing people and get a bit of variety when it comes to Texas culture.
So whatever you're doing this Thanksgiving, know that we are grateful for your business and hope you have a wonderful holiday.
We wish you and your family a safe and happy holiday filled with time spent with loved ones, delicious food, and plenty of warm memories.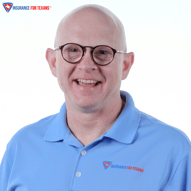 Ron Wadley is an owner and General Solver of Problems for Insurance For Texans. Ron is a resident of North-East Tarrant County in the Dallas-Ft Worth area. He loves riding his many bikes and watching his Baylor Bears play football and basketball. Send him your insurance questions at ron@insurancefortexans.com.