The insurance marketplace for commercial property in Texas is currently experiencing a state of upheaval. This is primarily due to the challenges posed by severe weather events such as hurricanes and hailstorms. Both of these items are making it difficult to find insurance coverage for property owners. But more importantly, if you already own a business you need to monitor for changes that can be made to your commercial property policies upon renewal. We are seeing coverage for hail damage being changed from replacement cost value to actual cash value coverage and it is not good for Texas property owners!
If you own property in Texas, you have likely experienced a hail claim at some point. You've relied on your insurance policy to make that claim for roof damage as easy as possible in getting you squared away. Now not every insurance claim goes according plan, but one thing insurance companies have done really well is get roof repairs handled fairly quickly and easily once an insurance adjuster has completed their process. But what happens now? Once the changes to insurance policies are made, the claim payments made to you by the company can be greatly reduced if replacement cost coverage is stripped away from your commercial property policy.
The Impact of Actual Cash Value on Roof Insurance
When your insurance company changes the claim settlement provision for your wind and hail coverage from replacement cost to actual cash value, it can have serious implications. Under an RCV policy, if your roof is damaged during a hailstorm, you would typically receive the actual cost of a new roof after paying your deductible. This greatly limits your out of pocket cash flow during a roof claim and keeps your business running smoothly.
However, with actual cash value, the value of your roof is depreciated based on its age and the type of roofing materials used in construction. The depreciation amount is reduced from your insurance payout before your deductible is collected and you are left with the remaining cost of repairs for your building. For example, if your roof is seven years old, you will likely face a 50% reduction in the roof replacement cost estimator. This means that a $75,000 replacement cost basis roof would diminish to a $37,500 amount payable by the insurance company before deductible. If your wind-hail deductible on your commercial property policy is $10,000, you will receive a check for $27,500 from the insurer to complete your roof replacement. That means you'll only receive a fraction of the amount needed to replace your roof. I don't know about you, but that doesn't sound very Texans at all!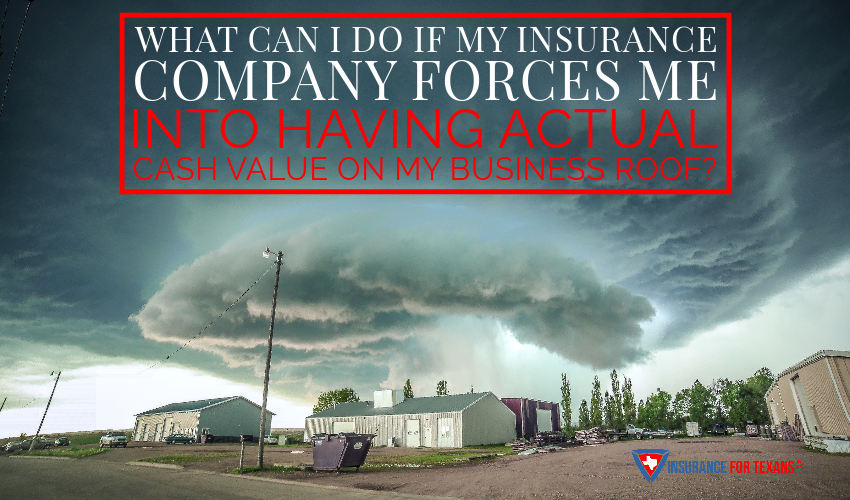 Options to Protect Your Commercial Property
Now that we've explained the massive problem that is mounting for Texas property owners, it's essential to explore your options and take proactive steps to protect your commercial property. Insurance rates are high to begin with, so our goal is to make sure that the policy your purchase from the insurance carriers actually brings value to your business and the property that you own. Here are the three main factors to consider when determining how insurance covers roof replacement.
Evaluate the Age of Your Roof
If your roof is twenty years old or more, it's difficult to find any insurance companies that will provide full replacement cost coverage. The insurance industry has wised up that they cannot afford to cover roofs that are old or are in poor condition. They just cannot make a profit on those policies without charging premiums that no one can afford. Therefore, it is advisable to assess the condition and age of your roof and consider investing in its replacement to maintain replacement cost coverage. Lying about the age of the roof is considered insurance fraud, so make sure that you have a handle on this when submitting and signing that application for insurance.
Seek Replacement Cost Coverage
Many insurance companies still offer replacement cost claim provisions for commercial property policies. While this may come at a slightly higher premium, it can ultimately prove more cost-effective than dealing with actual cash value and depreciation in the event of a hailstorm that damages your commercial property. Working with an independent insurance agent, like those at Insurance For Texans, allows you access to multiple options in insurance companies and types of coverage for your commercial property. This insurance professional is going to have the experience that you need to make an informed decision about what is best for your business. One thing to be on the lookout for with these policies is to compare the deductible options as well. Since this can significantly impact your financial responsibility in the event of a roof damage insurance claim, you want to understand how the wind-hail deductible affects the claims process for your building.
Consider a Deductible Buy Down Policy
Once you have secured a replacement cost policy, you may be forced into a higher deductible than what you desire. If your policy has a high deductible, the agents at Insurance For Texans have the ability to pair it with a deductible buy down policy. This separate policy can help reduce your out-of-pocket expenses in case of a hail claim for a somewhat small insurance payment. The cost of this separate deductible buy down policy is generally more affordable than the difference in deductible percentages, making it a smart financial decision.
Consult with an Expert
The complexities of wind and hail coverage for commercial property can be overwhelming. That's where our team of commercial property insurance agents at Insurance for Texans comes in. With our deep experience and access to companies actively issuing policies that Texans prefer, we can help navigate this intricate landscape and find the best coverage options for your unique situation. Remember, we work for you, the property owner, and our priority is ensuring your risk tolerance aligns with your insurance needs.
In a rapidly evolving insurance marketplace, it is imperative for Texas business owners to stay informed and take proactive measures to protect their commercial properties. Understanding the implications of actual cash value in roof insurance and exploring appropriate coverage options are vital steps in ensuring adequate protection against wind and hail risks. Don't hesitate to reach out to us at Insurance for Texans for expert guidance and trusted advice on safeguarding your commercial property.
Call us at 469.789.0220 or click the button below to get started with our help today!