As a business owner in Texas, you are no stranger to the dynamic and sometimes unpredictable weather conditions that come with living in the Lone Star State. From hailstorms to tropical storms, these natural perils pose significant risks to your business and its property. To mitigate these risks, commercial insurance policies provide essential coverage. However, recent changes in the insurance landscape have left many business owners grappling with larger wind and hail deductibles.
We received a phone call two weeks ago from a business owner in Ft Worth named Mary. She operates a fulfillment center in a moderate warehouse on the north end of Ft Worth. Mary explained to us that she had received a renewal document for her policy that she didn't quite understand. Mary also informed us that she was calling us because she hadn't heard from her insurance agent in a couple of years. She wanted to know if we could help her with understanding the document regarding her policy renewal along with why her insurance rates were so high!
Unfortunately for Mary and her business, this experience is all too common. Fortunately for Mary, we have not only the ability to help her, but the desire to help our neighbors understand their insurance policy. Hail coverage and all. Let's take a look at what was happening to Mary and what other Texas Commercial Property Owners and business owners need to be aware of right now.
Understanding the Changing Insurance Deductible Landscape
In recent years, insurance companies in Texas have experienced substantial financial losses due to the escalating number of claims caused by hailstorms and other perils. If you are located north of Interstate 20, you understand exactly what the problem with hail is if you're an insurance provider. And if you are located in Harris County, the story is much the same. Consequently, to mitigate their risk exposure, insurance companies have begun revising their policy terms and conditions. The result of these policy changes is resulting in higher wind and hail deductibles for Texas businesses. This means that as a business owner, you may find yourself facing deductibles of 2%, 3%, or even 5% of your property's insurable value when that hail storm strikes your property before a claim payment is ever made. And that is true before we account for whether or not you have replacement cost coverage or actual cash value on that business policy.
To put this into raw dollar terms for you, a 2% hail deductible on a building valued at $1,000,000 will cost you $20,000 out of pocket for that roof claim. Mary's building had a reconstruction cost estimate of roughly $2,500,000 which would make that same 2% deductible $50,000 in her circumstances. The replacement cost of her roof is estimated at approximately $85,000. This means that her repair costs would only be reimbursed about $35,000 from her insurance company when the repairs were completed. What exactly is her insurance policy doing for hail coverage if she is footing the bill for almost 60% of the damage to property that her business owns? She swore that her policy was not set up this way! And she was right. This is what she did not quite understand on the renewal paperwork that she brought to us.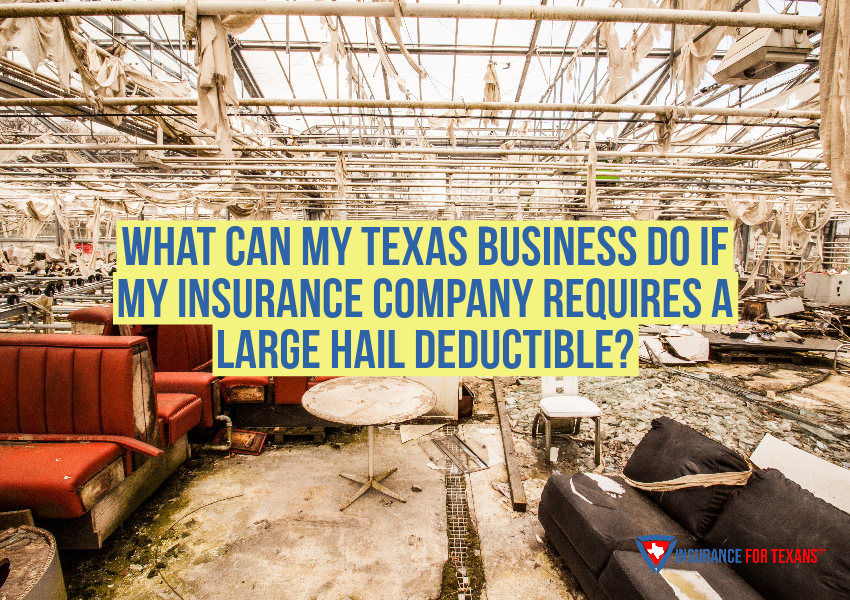 The Importance of Managing Deductibles
Naturally, the prospect of a massive deductible can be daunting for any business owner. But especially someone like Mary who has sunk her whole livelihood into her fulfillment business. While she makes a great living for herself, paying a $50,000 deductible out of pocket for an entire roof replacement is a tough pill to swallow as a property owner. She was told that she was supposed to have comprehensive coverage when she bought the policy originally, but it didn't feel that way now.
As a Texas business owner, It's important to assess and understand your risk tolerance. This helps you determine how comfortable you are shouldering a significant deductible amount for a hail claim out of your pocket. If you are like Mary and more cash flow sensitive in your operations, paying a significant amount towards a deductible rather than a more manageable amount each month in premium costs is incredibly painful. The good news is that while hail damage is almost inevitable in Texas, there are options available to help alleviate the strain of these larger deductibles for property owners like Mary and yourself if needed. We typically view two main options for people looking for hail deductible relief.
Option 1: Shopping with New Companies
As an independent commercial insurance agent, Insurance for Texans has the ability to work with various insurance companies that still offer a 1% wind/hail deductible option for your business. While these policies may not always be the cheapest, they provide an alternative that allows you to remain within a more manageable deductible range. By conducting a comprehensive assessment of your business's risk exposure, Insurance for Texans can find a policy that fits your needs and budget. Not only for your hail exposure, but also for other risks that your business might have beyond just natural disasters.
Our agents will scan the market based on the specific characteristics of your business and it's property to find you a great policy with a top line company that includes replacement cost on your roof, the building, and it's contents as well. Having a replacement cost policy that has a manageable hail deductible can make all of the difference in the world when it comes time for a claim.
Option 2: Agent of Record Change and Deductible Buy Down
If you find yourself in a high-risk area for big weather claims, changing insurance companies might not be feasible as the list of top line insurance carriers has dwindled. Insurance for Texans offers an alternative solution in these scenarios known as an agent of record change. By taking control of your policy, we can provide you with personalized service and conduct a thorough review of your policy to identify potential changes to better align with your needs. But that alone will not address the issue of a large hail deductible.
Because of that, Insurance for Texans also offers what is known as a deductible buy-down policy. These are separate policies which allow you to adjust your deductible exposure from a high percentage, such as 5%, to a more preferable 2% or 1%. By striking a balance between the cost of the policy and the deductible, you can find a solution that suits your business while also having a better relationship with your insurance agent.
How To Get Started
While insurance companies in Texas have implemented larger wind and hail deductibles as a practice, as a business owner, you have options to mitigate these changes. Just like Mary did when she came to us. We were able to help Mary get a new policy that covered not only her roof claims, but her entire operations in a much better fashion.
Insurance for Texans understands the unique challenges faced by Texas businesses and is committed to helping you find a solution that works for you. Whether it is shopping with new companies or utilizing agent of record changes and deductible buy-down policies, Insurance for Texans has the expertise to guide you through this intricate insurance landscape.
Don't let the fear of a massive wind and hail deductible paralyze you like it initially did Mary. Take control of your commercial insurance policy today by contacting Insurance for Texans at 469-789-0220 or by clicking that form below. Let us help you protect your business from the unpredictability of Texas weather while keeping your coverage consistent.