Commercial insurance, which is coverage for your business, is put in place to protect your Texas business from an unexpected loss or catastrophe. Texas is unique in that commercial insurance is not required of any business by state law. However, there are a limited number of businesses, state agencies, or licensing boards that do require proof coverage before you can get to work in this great state. In that same vein, just because it may not be required doesn't mean that Texas businesses don't need to carry the coverage. Your business is exposed to risk of bankruptcy or worse if you do not carry the proper coverage to protect it from loss due to mistake, accident, or a weather catastrophe.
Commercial Insurance Policies are a bit different than other types of insurance that you may be used to like Texas Home Insurance or a personal auto insurance policy, in that you may have many policies to cover your business rather than a comprehensive package of coverage. Many of the individual types of coverage can be issued as a single insurance policy using different insurance companies for each which can be a bit shocking. That said, many companies do offer a Business Owners Policy as a package of coverage. While this won't be an exhaustive collection of coverage that your business might need, let's take a look at the various types of insurance coverage that many Texas Businesses deploy each day.
Top Five Business Types Insurance For Texans Cover
Dental Offices
Optometrist Offices
Liquor Stores
Manufacturing Plants
Physician Medical Malpractice
---

Types Of Business Insurance Coverage Used In Texas
Commercial General Liability Insurance
Commercial General Liability Coverage (CGL) is the most basic type of commercial insurance coverage that is purchased by businesses in Texas. Liability coverage protects your business in a handful of different ways including Advertising Injury. Businesses need CGL insurance to protect them against potential liabilities arising out of their business activities. CGL covers any injuries or damages that occur at the business' location or as a direct consequence of its business activities. It also provides protection against losses resulting from defective products provided by the company or during the manufacturing process. The Policy Limit for commercial general liability coverage typically starts at $1,000,000 per occurrence and can escalate from there.
Business Property Insurance
Your buildings, including any improvements made to them, your business personal properties, and the personal properties of others comprise the basic coverage sections of your commercial insurance policies. You may purchase these coverages individually as individual line policy, or they may be purchased together as a package policy.
A building's structure and any completed additions are covered under the building portion of an insurance contract. Building value includes any permanently attached equipment, finish outs, or fixtures as a part of the building. The limit of insurance for a building is the estimated cost to repair or replace the building if it were totally destroyed. Coinsure is a term used to describe the requirement that you must cover at minimum a certain amount of the remplacement cost of a building. If you have a coinsurance of 80% and the building estimated full replacement cost is $100,000 you are required to carry at least $80,000 in coverage. In the event you are under the $80,000 you trigger the coinsurance clause which results in only a partial payment of the loss which can lead to unnecessary out of pocket expenses.
Business Personal Property includes furniture, fixtures, machinery, and equipment (FF&E) not permanently attached to real estate. It also includes inventory and any other personal property owned and used in your business.

Commercial Auto Insurance
A commercial auto insurance policy is coverage that protects against bodily injury liability and property damage liability caused by the negligence of drivers while using company owned autos or commercial vehicles. It provides coverage for damages resulting from accidents involving automobiles owned and/or operated by the insured business.
The liability portion of the policy will cover claims made for either bodily injury or property damage where it is determined that the driver of the business vehicle or commercial vehicle is at fault for the accident, even if it is partial fault. This line item of coverage is there to make others whole for any damages that they incur.
The physical damage portion of the policy, comprehensive or collision coverage, will work to account for damages incurred by the insured business if the vehicle is damaged by either an at-fault accident or other act like a hail storm. It also makes sense to include rental vehicle coverage on your policy so that the business is not impacted with a loss of revenue in the event that the vehicle is down for any period of time due to a claimable loss.
Professional Liability Insurance
Professional Liability Insurance, otherwise known as Errors & Omissions Insurance (E&O Insurance), will help protect you and your Texas company from lawsuits for any claims related to your Texas Professional Service related activities. Many different kinds of companies need this kind of policy, including construction firms, real estate agents, doctors, lawyers, dentists, accountants, architects, engineers, financial institutions, manufacturing, technology firms, and many others.
While it is not limited to the listed examples above, E&O Insurance will allow your clients to be made whole for any economic or non-economic losses that result from an error or omission made by you or your employees when providing service or advice. While non-economic damages are capped in the state of Texas for some industries, it is important to understand that economic damages such as lost wages due to disability or death are not capped. Therefore, Insurance For Texans recommends an adequate amount of coverage to reduce your exposure to a large lawsuit and legal expenses resulting from a mistake rather than hoping nothing goes wrong.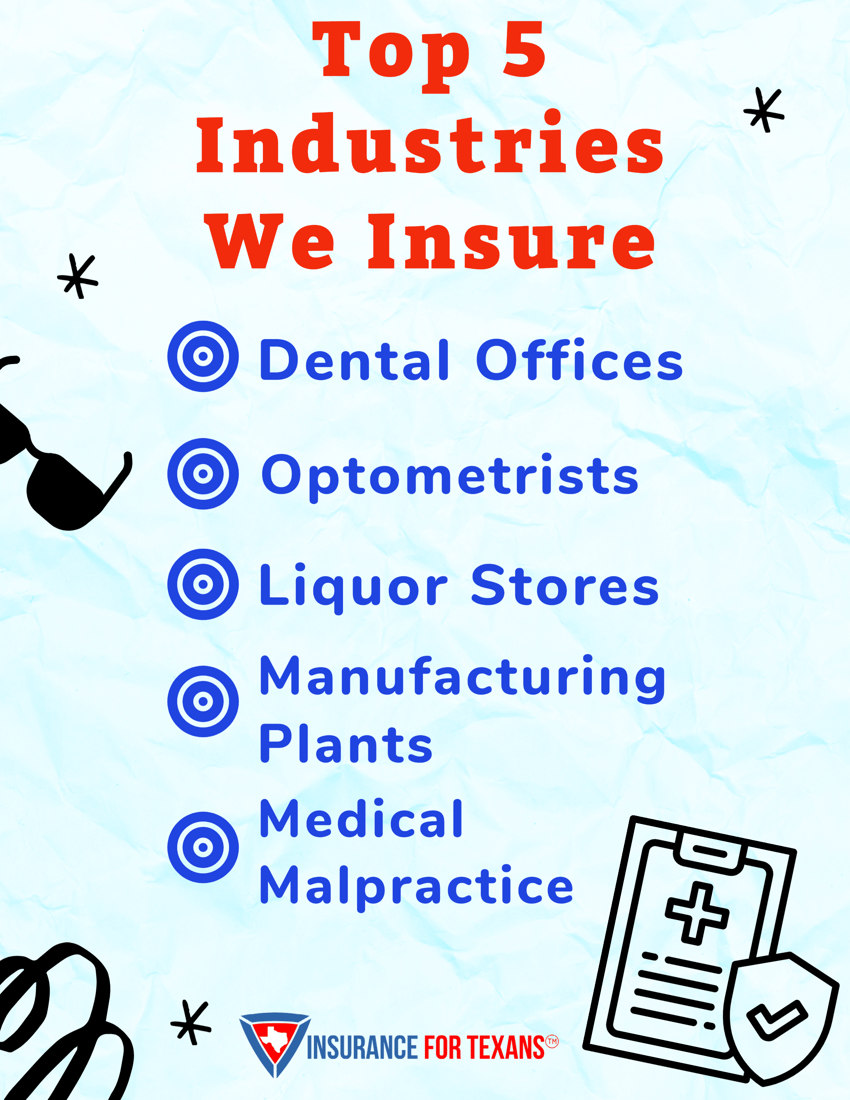 Workers' compensation insurance
Workers' compensation insurance provides benefits to workers who suffer injuries due to work-related injuries or accidents. In Texas, workers' compensation insurance can provide benefits such as medical care, wage loss payments, vocational rehabilitation services, and death benefits. However, not every employer must carry workers' compensation coverage as this requirement is not mandated by the federal government. For example, private employers do not have to offer workers' compensation insurance. Additionally, certain types of businesses may choose to self-insure instead of purchasing workers' compensation insurance.
Workers' compensation can benefit your Texas business for incidents including:
A chef burns himself with hot grease in the kitchen and has to spend several days in the hospital, then spends several months recovering from his injuries.

A dental assistant trips and falls while walking across the patient treatment area and needs physical rehabilitation after visiting the emergency room.

A driver is returning from a business trip when he gets into an automobile accident which requires him to be hospitalized.
Workers' compensation benefits can help cover medical expenses and lost income due to an accident at work. They also limit the liability of employers in the case of an employee's injuries by simply carrying the insurance coverage. Because of this, we highly recommend that your business carry this important coverage to reduce your risk of financial ruin from a simple claim due to the increases we continue to see in medical costs and medical bills associated with our health system here in Texas.
Cyber liability insurance
Cyber liability insurance covers business risks related to computers and technology. It includes targeted cyber threats, such as malware and social engineering, as well as the rare but unfortunate case where an employee leaves their laptop by mistake in an unsafe environment.
The most common types of cyber attacks are:
Malware – malicious software that can be used for a variety of purposes including stealing information or disrupting systems. Malware is often spread through email attachments, websites, infected USB devices or other means.

Social Engineering – this type of attack exploits human weaknesses, such as gullibility, in order to gain access to sensitive data.
If your business has any type of sensitive customer information stored electronically, processes payments electronically, or uses email to conduct business; then you need to be covered by an cyber policy that includes identity theft insurance policy.

Other Coverages
There are a host of other options that are available to protect your particular business whether it is big, small, or somewhere in between. Some of these will be dependent upon your industry or niche which is why working with a commercial insurance specialist like Insurance For Texans. Here is a brief list of potential items to consider, but should not be considered to be exhaustive.
Employment Practices Liability Insurance (EPLI) - EPLI will protect the business in the event an employee accuses misconduct with respect to how they are treated during employment or as they are let go for any reasons.
Business Income - In the event of a covered loss causes your business to be shut down for a period of time, the income that would have come in during the closure can be recovered to make ends meet.
Inland Marine - If the business owns high value items that would need to be replaced outside of business personal property, they can be scheduled for replacement using Inland Marine.

Liquor Liability - If your business serves or has alcohol on premise or at your event, there is a risk of someone driving away after consuming too much. This coverage will protect you in that event.

Employee Theft - Not all employees care about your business as much as you. If they were to steal items or money, the business can recover those losses.

Bailees Coverage - If your business holds the personal property of a client like a dry cleaner or computer repair shop, this coverage will replace that item(s) if it is stolen or destroyed while in the care, custody, and control of the business.
Texas Business Owner Policy
If all of this seems complicated, it's because it is. The best news is that the insurance agents at Insurance For Texans help businesses all over Texas with these coverage items every single day. Whether you own a dental office in Fort Worth, a restaurant in San Antonio, or a manufacturing plant somewhere in Harris County; the expertise of our licensed agents in putting together a comprehensive set of policies will allow you to mitigate the exposure to risk that your business faces. One of the ways that we do that is through a Business Owners Policy which combines a wide range of these liability insurance policies into a single policy that addresses many coverage options in one commercial insurance policy.
Your Texas business can benefit from a thorough commercial insurance coverage review. Let the independent commercial insurance agents at Insurance for Texans help you chart a path to provide a wide variety of protection for you Texas Business so that you can rest easy knowing that even things like defense costs are covered for your business future. We are experts in Commercial Insurance Coverage and put that knowledge to work for you to avoid financial losses in the future.