For those of us that grew up knowing what it was like to have an antenna sitting atop a television set that offered a whopping 4 to 10 channels, who would have ever thought we'd see the day when a channel dedicated to home design and renovation would exist, much less multiple channels?
These days, we're used to channels like the Do It Yourself Network, HGTV, and others which have brought words like "shiplap", "open concept" and "reno" into the modern day English lexicon, all while inspiring a lot of people to take on projects to upgrade and/or redesign their home with more confidence.
Decades ago, the same people watching and taking on the renovation project may have just forked over their money to a contractor without knowing a lot of ins and outs about load-bearing walls, plumbing and electrical.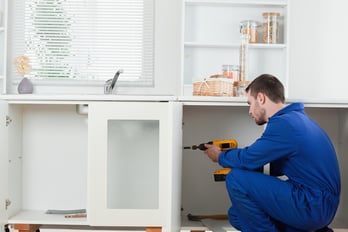 With the amount of information available and big-box stores marketing to the homeowner about do-it-yourself projects, inspiration is a screen away.
Count All the Cost
Whether your inspiration comes from a clip found on Youtube, design personalities like Chip and Joanna Gaines or the Property Brothers, or just that good old fashioned American grit to get things done yourself (we like to think Texas owns the corner when it comes to this), it's always wise to consider how knocking out a wall and/or installing a new kitchen or bathroom will possibly impact your home insurance.
You may think some renovations on your home may make your home newer, and therefore easier to insure. You may be right. However, you are most likely adding value to your home, making it more costly to replace in the case of loss.
A few questions you might ask could include:
What additional coverage will you need during the construction phase?
Are you planning on upgrading a bathroom or kitchen which requires rerouting plumbing?
Will you be upgrading the exterior, e.g., adding an outdoor kitchen, patio or pool, increasing liability?
These things are all made to look easy within a 1/2 hour to hour show, but reality is, a lot of decisions have to be made when renovating your home, and your home insurance policy coverage may be directly affected in a negative way and catch you unaware if you don't plan for it.
Inform Your Carrier
Your insurance carrier will need to know details about the changes in your homes structure, whether those changes involve the interior, exterior, or both. Honesty is the best policy when it comes to any updates to your home.
The value of your home will most likely rise from your improvements, making your home more expensive to rebuild in the case of loss. You'll want to make sure your policy coverage is set at the right replacement value.
Before the shovel hits dirt or that first sledgehammer makes contact, make certain to contact your trusted independent insurance agent to make certain you are carrying the right coverage and won't be left empty-handed if a claim arises.
Insurance For Texans is here to help with your renovation questions related to your improvement project. We are no strangers to the home remodel and we just happen to know a lot about home insurance. As an independent insurance agency, we have multiple solutions to help you mitigate the cost of home insurance without sacrificing coverage. Give us a call, text, email or any other form of shout before you contract with a renovation contractor.
We'll ask you the right questions to get the right answers to keep you dialed in to the true cost of home renovation.
And if you plan to hire a contractor for the job, do not let them start the job until you know they carry their own liability insurance!