As the hail claims continue to mount in Texas, the home insurance companies have begun to find new ways to lower the cost of those claims. We've seen deductible amounts be increased, partial claim payouts on roofs rather than totaling them, and even moving to actual cash value as roofs reach certain ages. All of this is done in an attempt to reduce both the frequency of the claims and the severity of the cost of the claims. So what else can they possibly do?
Texas Home Insurance Companies have moved to excluding damage on your roof and other soft areas like gutters if the damage is determined to not have an effect on the structural integrity of the item and it's ability to protect the home. Also known as, cosmetic exclusion.
How Did We Get to Here?
If you rewind to the late 90's and very early 2000's, North Texas Homeowners began to take advantage of a loophole that they uncovered in their home insurance policies. They determined that when they made a claim for hail damage on their home, that the home insurance companies would cut them a check as a settlement for the claim. In this scenario, the homeowner would receive the full replacement cost value of the items that were decidedly damaged like the roof and gutters. While waiting their turn to get the repair done, the homeowner subsequently was able to figure out that the roof was not leaking and then pocketed the check. Not a bad windfall of several thousand dollars they thought. However, there are some slight problems with this. Mostly that not repairing the damage prevents further insurability. The home insurance companies began combating this in various ways. One of which was trying to determine what really had to be replaced.
How Can The Determine What Is Not Structural Damage?
One area where roofers inflate hail claims so that they do not require you to pay your deductible is to include damage to soft items like window screens, gutters, and fences. The contractors know that these items are easily noted to have damage and then subsequently not replacing them doesn't compromise the safety of the home. The home insurance companies have wised up. And they are fighting back.
The home insurance policies of many companies now include a provision that excludes replacement of items that are only cosmetically damage. Gutters are easy to spot. They take shots of hail and become dented. Since a dent does not prohibit the gutters ability to shuttle water to the desired location, it is deemed to be cosmetic. This step can save the home insurance company thousands of dollars per claim, but also frustrate a homeowner who can spot the difference.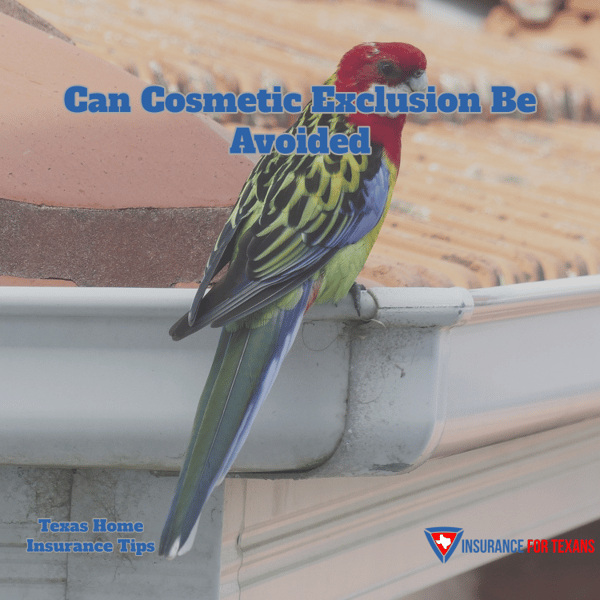 Can Cosmetic Exclusion Be Avoided?
For right now, the answer is yes. There are still home insurance companies operating in Texas that do not have this exclusion built in to their policies. It's definitely important to review the policy forms and conditions with your local independent insurance agent to determine if this can affect you and your home. They can sit down and cover the nitty gritty details of your Texas home insurance policy. This can include discussions about cosmetic exclusions and also what is known as limited matching for siding and roofing.