In recent weeks, many Texas business owners have received their commercial insurance policy renewals in the mail. And many of these renewals can feel confusing since these business owners are experiencing the unfortunate situation of their insurance companies removing wind and hail coverage from their commercial insurance policies. The choice of words is not always the most comforting and in many cases the insurance agent that sold them the policy in question is nowhere to be found when that mail arrives. That means when the business owner realizes that their insurance rates are increasing and one of the most important coverage items on their policy is missing, the questions grow.
This concerning trend has left business owners wondering about their options and protection for potential hail insurance claims. Texans all know that severe weather is coming as some point, and that having comprehensive coverage for your business to clean up after a hail storm is important to the long term success of your business. As experts in commercial insurance in Texas, Insurance For Texans aims to address this issue and provide solutions to assist affected business owners so that you are left with the big repair costs that come from those storms.
What Are My Options?
Insurance carriers have all been losing money from the vast amount of claims. The labor shortage has extended the repair process and the inflationary pressures have made those insurance checks larger over the last three years. It's been an ugly cycle for both private insurers and major insurers alike. If you have had to deal with an insurance claim over this period of time, you understand what we're talking about. Sadly, the response by the insurance providers has been less than ideal, whether you're in Harris County, Collin County, or some place else in this great state where the hail falls fast and free. We have been working with many Texas businesses to make sure that they have the type of coverage that they need for their specific business as well as for the type of claims that they are most likely to make. Here are the key components of evaluating how to determine if your current insurer is appropriate or maybe it's time for a change!
Seek Assistance from an Independent Commercial Insurance Agent
The first crucial step for Texas business owners facing the removal of wind and hail coverage on their commercial insurance policy is to reach out to an independent commercial insurance agent like the ones at Insurance For Texans. These agents specialize in Texas commercial insurance and have the expertise to guide you through available options like property coverage, roof coverage, replacement cost coverage, or coverage even for Tropical Storms. Unlike big nationwide insurance companies who leverage call centers, a local, independent insurance agent is dedicated to assisting local businesses like you understand the unique challenges faced by Texas business owners.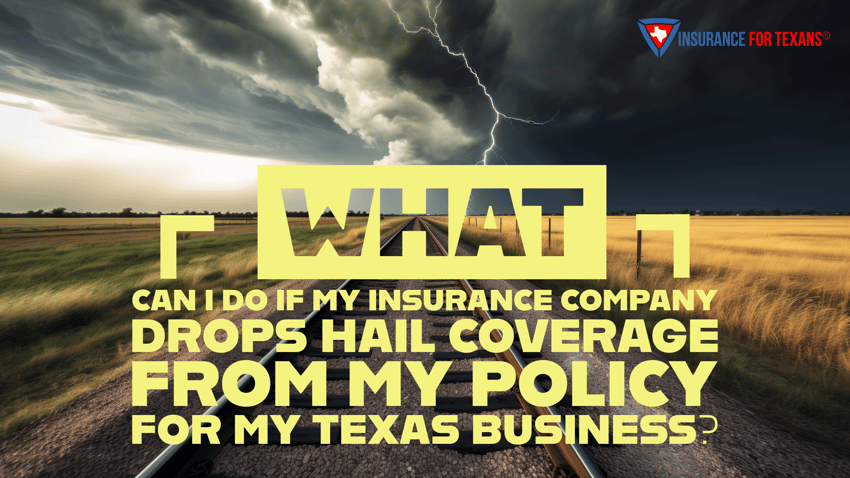 Explore Alternative Insurance Coverage
Even though some large insurance companies are removing wind and hail coverage, it doesn't mean all hope is lost. There are still plenty of insurance companies operating in Texas that offer comprehensive coverage for wind and hail claims on business owner policies, commercial property policies, and commercial packages. It is essential to find a policy that protects your business from potential damage to your location, finish outs, improvements, and business personal property that can be caused by hail. Insurance For Texans can help you navigate through the options and find suitable coverage for your needs, including looking at deductible amounts and other optional coverage that you may not even be aware of today!
Don't Settle for Less
The bottom line is that it is important for Texas business owners not to accept insurance policies that remove wind and hail coverage even if you rent your location rather than own it. Hail claims are the most common in Texas property insurance, and declining coverage for such a significant risk is completely unacceptable. If your agent tells you that there are no alternatives or asks you to call a service center, it's time to take action. Reach out to Insurance For Texans to find reliable and comprehensive insurance solutions tailored to the specific needs of Texas business owners.
What Else Do I Need To Consider Once I Know That Wind & Hail Is Covered?
While it may be disheartening to discover that certain insurers requiring a large deductible for wind and hail coverage, having some coverage is better than having none at all. Insurance For Texans suggests discussing deductible options with your independent agent. They can help you identify an appropriate deductible or facilitate a deductible buy-down using a separate policy if needed. This approach allows you to balance your out-of-pocket risk in the event of a claim while maintaining a manageable cash flow.
We all know that heavy rains and crazy hail comes from the severe thunderstorms that roam around our state. You do not want to find out that your insurance policy is set to make a reduced claim payment AFTER the golf ball sized hail falls and does damage to your business. You need to ensure that you have replacement cost coverage on your roof coverage so that the bulk of the cost of damages falls up on your insurance company rather than your general ledger.
Who Has The Best Hail Policy?
The removal of wind and hail coverage from commercial insurance policies has become a glaring issue for many Texas business owners, and Insurance For Texans understands the urgency in finding appropriate solutions. The BEST hail policy is the commercial insurance policy that accounts for your business' financial risk profile relative to a severe weather event. Those parameters change when you are in different regions of this great state.
By working with an independent commercial insurance agent, exploring alternative coverage options, and considering deductible possibilities, affected business owners can ensure they have the necessary protection against hail damage. Remember, settling for inadequate coverage is not the Texas way.
Call us at 469.789.0220 or click the button below to understand what happens with weather-related damage to your business. We're here to help Texas businesses thrive in spite of wind damage!