When looking at Texas home insurance, one of the first things that Texans want to know is what their wind and hail deductible is going to be. If you live in North Texas, you realize that the likelihood of a hail claim is extremely high. We have storms monthly it seems like. But other parts of the state are affected by this as well. Greater Houston deals with substantial storms, as do the High Plains of the Panhandle. So what is a wind-hail deductible and why do I care?

What Is A Wind & Hail Deductible?
Each Texas home insurance policy has many provisions included in it. There is a section in each policy that is devoted to deductibles. A deductible is you assuming some amount of financial risk in a claim situation. The company agrees to pay for the resulting damage after you agree to pay the first portion. On Texas Home Insurance policies, we typically see three distinct deductibles. There is a Hurricane deductible, a Wind & Hail deductible, and an All Other Perils deductible. The Wind and Hail deductible is applicable when damage to your home comes from a storm that has either high winds or hail. Or both! It typically is applicable to your roof, but can also impact other places on your home or property like windows, fences, gutters, and siding. Since hail has become the single most frequent claim in Texas, the home insurance companies have separated this line item out in an attempt to control claim costs.
In an attempt to contain those claim costs, home insurance companies have begun to put different parameters in place to make it more difficult for Texas homeowners to complete a claim without paying the deductible. These changes to the deductible have moved them from being a small, flat dollar amount like $500 or a $1,000 to a percentage of your dwelling amount. Many Texas Home Insurance policies have set a mandatory minimum wind hail deductible at 1% of that dwelling amount, though some companies have moved to a minimum of 2% or more if you are located in specific geographic areas like Collin County.
These moves are because roofing contractors will inflate the hail claim amount knowing that the insurance companies will approve the requested work, and then subsequently not require the deductible amount from you the homeowner. The practice has become so commonplace that even the Texas Legislature enacted a new law during the 2019 session prohibiting the waiving of deductibles.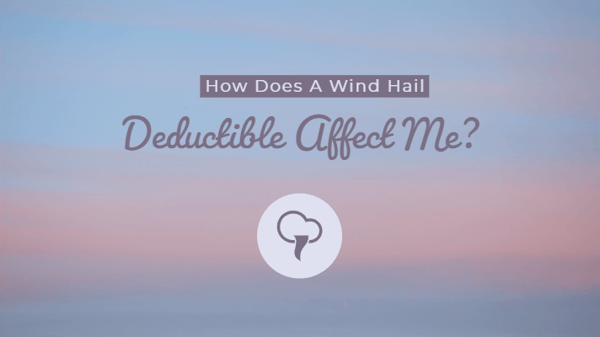 How Does This Affect Me?
Obviously, the new legislation is going to change how hail claims are handled and processed. Since it is fairly new, the mechanics will need to be worked out. Beyond that, make sure that when you are shopping for a home insurance policy, that you understand if your wind hail deductible is 1%, 2% or even more. The difference can mean replacing your roof yourself or the insurance company paying most of it for you. Along with this, you will want to understand if your claim will be settled as actual cash value or replacement cost. Some companies will give you a 1% wind hail deductible, but only if you agree to an actual cash value settlement. That has a drastic affect on your claim experience and money out of pocket.
Working with an experienced independent insurance agent can help you navigate the waters of differing deductibles and claim settlements. Insurance For Texans has highly trained professionals that can point out the differences for you as well as provide guidance to companies that can match your needs to the pricing that you are looking for. Just click the button below to get get started on your path to understanding your home insurance policy fully.