Insurance For Texans had a conversation with a Grapevine home owner about his home insurance policy recently (that happens quite a lot actually) and he said he'd read up on umbrella policies.
He had some questions about whether or not he needed this type of policy and wanted to make sure he understood the purpose and how the coverage works.
We talked it over and thought you'd benefit from the information shared.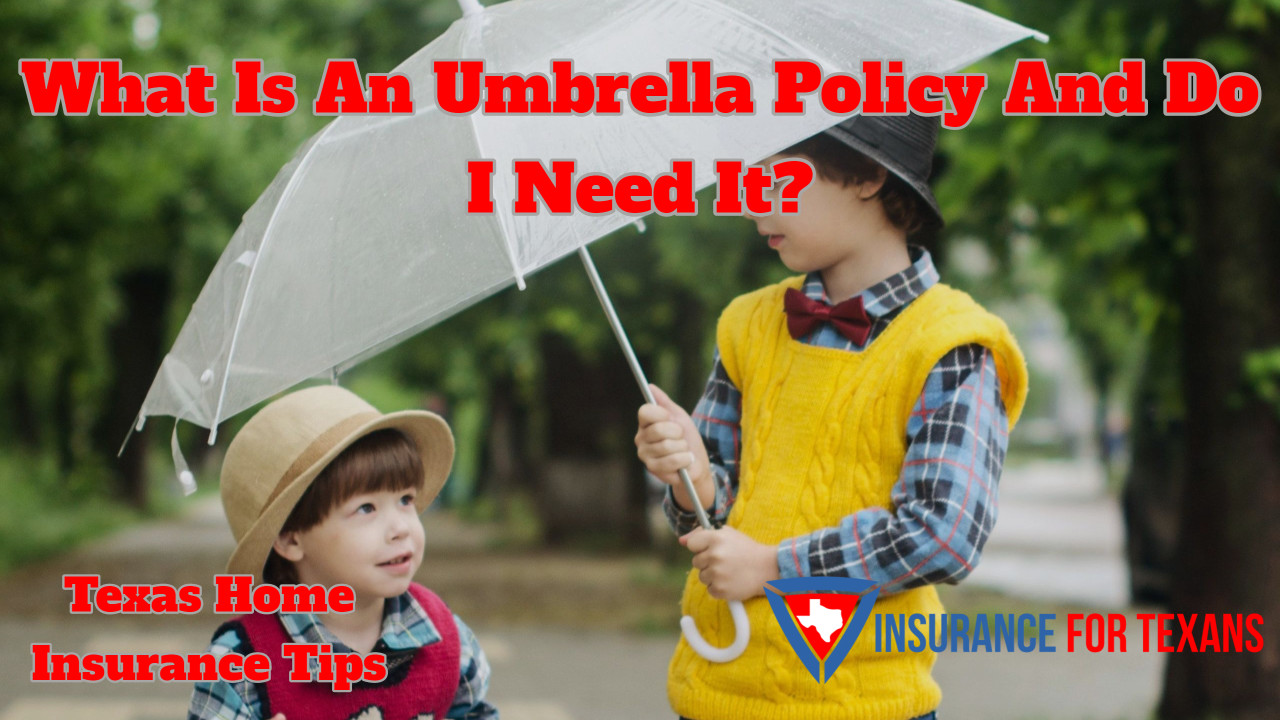 What Is An Umbrella Policy?
Think of an umbrella policy as an extra layer of protection against liability claims that extends beyond the coverage you have for your home, automobiles, recreational vehicles, golf cart, and if you have watercraft, boat policies.
Each of those policies already carries protection in the form of liability coverage. So, if someone were to claim your negligence caused harm to person or property, this coverage helps to provide the funds necessary to remedy or cover your costs of proving yourself not negligent.
For instance, the following scenario paints a picture of why liability coverage is important.
If you are at fault for a catastrophic car accident in which the other driver is injured severely or dies, your liability may shoot over $1,000,000 in a hurry due to the how valuable a life is. What if you were driving your boat and collided with a family? What if a roofer with no insurance falls off your roof and lands on a power line?
These are real scenarios. Liability is on the books as court precedent as a result. Though the roofing example is not as common as the negligent driver or boater, the homeowner was found liable since they didn't verify insurance was held by the company doing the roofing replacement.
Because the family of the other party found legal counsel, the trained attorneys pounced on the insurance policies of the negligent before going after the personal assets of the insured.
How much would you want if your wife or husband was killed in an accident due to someone's negligence? Will $50K suffice to replace the primary breadwinner or mother of your children?
No.
$250K? Probably not.
As much as possible. Probably.
That's where an umbrella policy that would pay an additional $1,000,000 would come in handy. Taking care of the grieving family is the right thing to do, especially if you are negligent.
This protection will also give you legal representation for the tough climb ahead.
Functionally, you will have this layer of protection against a lawsuit. You get to see a silver lining of moving on with your life as well. After a scenario like this, you will want peace of mind. This helps you get moving toward that, however long it takes.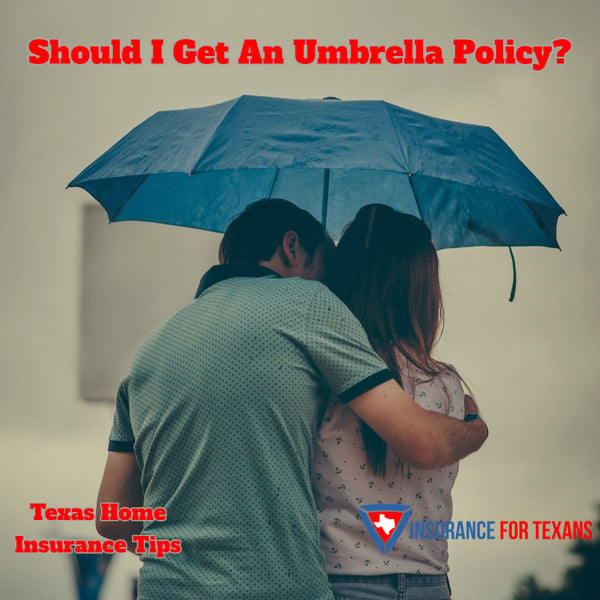 Should I Get A Personal Umbrella Policy?
This is your decision to make. How does it look from a practical standpoint?
1. We don't have a magic, crystal ball and neither do you. We don't know what will happen. We do know life is full of risk if you plan to say, move in any direction or if you plan to own anything. Claims can find you whether they are completely your fault or not
2. What is a life worth? We would most likely say ours is incredibly valuable to our family and vice versa. From a monetary glance, if you bring in $75K per year and you expect to live another 25 years at least, that's $1,875,000 your family would potentially miss over the next 25 years. That's not chump change.
3. If your actions caused the inability for someone to work because of a death or disability due to an accident, are you able to provide your own defense and issue a check to cover the cost of the family's income needs?

If you are like most Texans, you don't want to pay for your own legal bill much less pay for someone else. An umbrella policy makes sense. If you give the excuse of "But I don't have any assets for someone to even want to take", we're going to slap our forehead.


Your bank account is in the target of attorneys. Stocks, real estate, and other value assets are next. You can experience total wipeout and bankruptcy.
"They won't take my home" is a true statement you could make. However, if judgement is properly executed in the form of putting an abstract lien in place against your home, you won't see much profit if you were to sell one of your only assets remaining.
Helping our cause to help your cause, umbrella policies are relatively cheap compared to the protection they provide. That's called value. In many cases, the cost for $1,000,000 in umbrella coverage is less than $1 per day.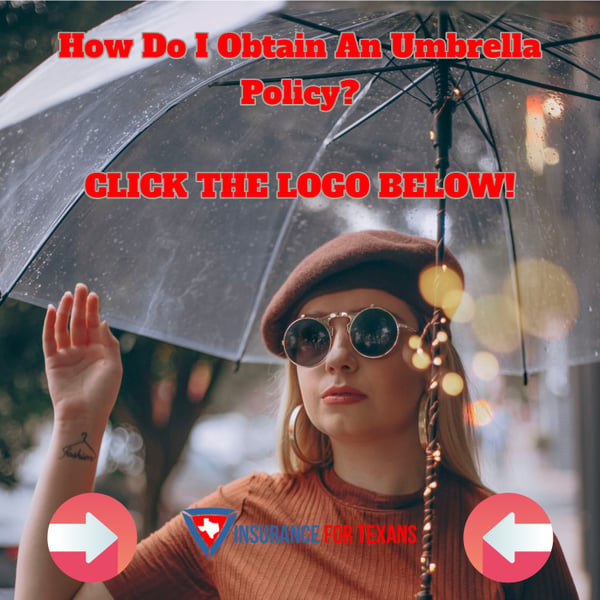 How Do I Obtain An Umbrella Policy?
If you rightly decide you want an umbrella policy, it's simple to obtain. First, maximize the liability coverage on your home, rental property, automobile, and other covered items on each policy.
Carriers issuing umbrella policies like to see max coverage first on these policies before issuing umbrella coverage.
You will need to carry up to a certain level in coverage, e.g., home policies should typically max at $500,000 in personal liability while auto may be $250,000 per person for bodily injury protection.
Once proof is in place, the process is quick. Our preferred carriers even provide policy discounts available to you if bundling policies together.
We know you may have never considered an umbrella policy before. However, pound for pound, dollar for dollar, it's one of the best deals out there to provide max liability coverage in a very litigious day and age.
Working with your local, independent insurance agent will help you get this coverage sooner rather than later to fill that hole.
Click below and we'll get started!