For Texas homeowners, the number one claim against their home insurance is hail . That's not really a big secret. Water damage is the number two reason for property insurance claims. But not all water damage is covered. Or is it? Most of the time, the answer is yes, however there are a few caveats that you should be aware of when considering a policy. One question that always comes up to our agents is does this insurance cover water damage.
Let's take a look at why water coverage is such an important part of True Texas Home Insurance.
True Texas Home Insurance Includes The Water Coverage Texans Need Most

What Water Losses Does Homeowners Insurance Cover?
There are multiple types of homeowners insurance policies issued in Texas by various insurance companies. Those insurance can range from a policy that covers eight named perils all the way up to open peril policies that are only subject to exclusions. Each of those insurance policies have different mechanisms that determine what is and is not covered and how any potential claims are settled for the Austin homeowner. However diverse they might be, there are some coverage items that are common to all of the policies. Water coverage being one of them. So let's look at what that means for standard homeowners insurance policies before exclusions are applied.
The coverage item for water that is consistently included is "sudden and accidental discharge of water or steam" in your home. This can range from a broken pipe in a bathroom to an appliance such as a refrigerator or washing machine giving way and subsequently flooding your home causing accidental water damage. Water heaters are notorious for being the cause of damage in this claim scenario since they remain largely out of sight and out of mind and can create a water leak out of nowhere. Frozen pipes from the dreaded winter storms will also qualify as accidental water damage. The bottom line for this coverage to be applicable is that the rupture happened without warning and caused damage to the interior of your home.
In additional to the sudden and accidental discharge, another water coverage common on Dallas home insurance policies is the water that enters your house as a result a storm claim through a roof leak. This would happen if wind blew a tree over which then landed on your house causing roof damage. If the roof is breached and a hole is subsequently created by the falling tree or other debris, the water that enters your home as a result is going to be covered on most policies. Similarly, water damage that is a result of putting out a fire to your home would be covered as both of these types of claim are the result of an additional activity that is covered by your San Antonio Home Insurance policy.
Water coverage then becomes trickier depending upon your policy type. An open peril HO-3 policy type will include an additional type of coverage for water that becomes incredibly important called "Wind Driven Rain". In the event of a wind storm, rain can come sideways and get underneath the shingle, drip edge, or come through vents in the roof space. Without the adjacent damage from an item of debris that causes the water to enter your Waco home, this rain water that enters your home is strictly a result of the wind driving into places it does not belong. Therefore, if you are on a named peril policy (HO-A, HO-B, DP-1, DP-2, or other named peril variation) it will likely not be covered as wind driven rain is typically not on the list of eight or 14 named perils. This is a water coverage that has created a lot of grief for Texas homeowners through the years as our storms are big and bright, just like our stars at night.
It's incredibly important to understand whether or not your policy is named peril or open peril as a result of these differences in how water coverage is handled. Listed exclusions can always take coverage away from a policy, but knowing whether or not everything is covered beyond those exclusions can be a quick determinant of the quality of a home insurance policy.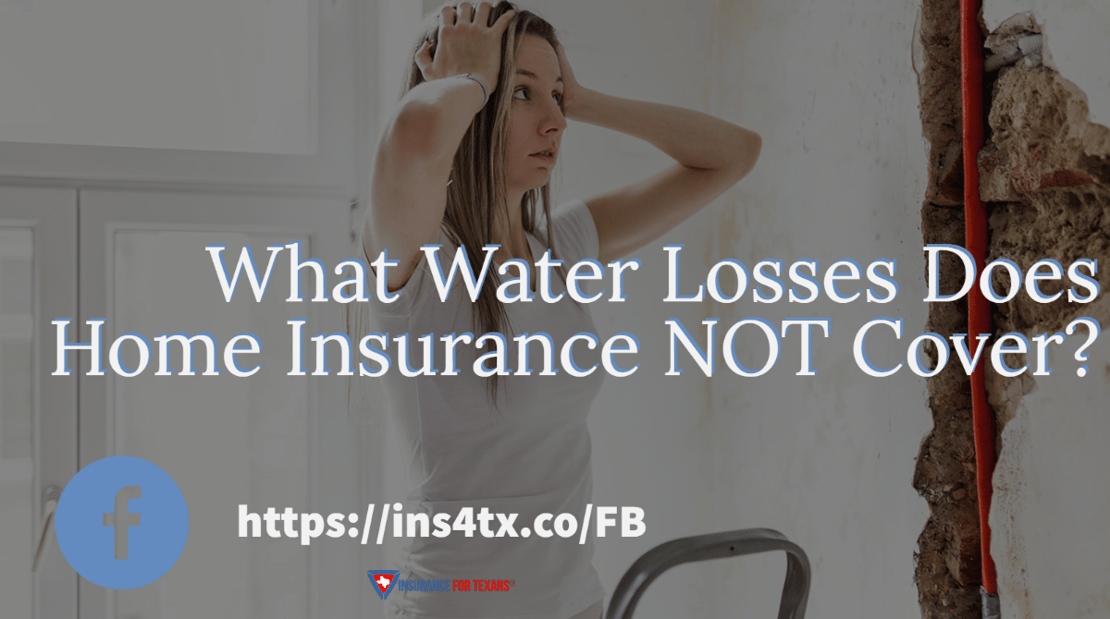 What Water Losses Does Homeowners Insurance NOT Cover?
Now that we've talked about what a policy does cover, it's time to look at what your policy does not cover. Or at least does not cover without adding an optional endorsement or two. The biggest headache for Amarillo homeowners with respect to water is the dreaded slow-leak. When we discussed a burst pipe above, that claim was very sudden. What happens if that p-trap in your third bathroom that you never use develops a drip that you don't notice for extended period of time? The damage can be severe to the home due to the rot of the area underneath, including flooring and sub-flooring. Or maybe the condensation drip pan underneath your AC unit in your attic becomes clogged and begins to drip on your attic rotting the wood trusses holding up your roof. These slow leaks are out of sight and out of mind producing potentially large amounts of damage, and they are not covered without an optional endorsement on your home insurance policy here in Texas. These losses have been problematic because not only are they destructive to your home, but also provide mold damage which can be a costly remediation project if you do not have coverage for the slow leak itself!
In addition to these slow or gradual leaks mentioned, you can also have water damage that is occurring in your foundation that is completely unnoticeable to you as it's invisible. If you experience some settling or shifting in your foundation, it can cause a PVC pipe to crack which can then begin to slowly allow water to hit the concrete in your foundation over time. This damage can be incredibly expensive to repair, and without the foundation and slow leak endorsement on the policy, it will not be covered.
One final item that most people do not ever think about until it happens is the back up of your sewer or drain pipe into your home. This frequently occurs in the bathroom and is the result of the sewer pipe becoming clogged or impacted. Obviously, this is a stinky mess for Grapevine homeowners and a disaster to clean up. This coverage requires an optional endorsement that no one should be without.
What Optional Water Coverage That SHOULD Be Included On Homeowners Insurance?
Now that we've talked about which water coverages are included and those which are not, it's important to talk about which ones matter the most. Not all carriers will offer these optional endorsements should be added for Texans that actually care about their home. And while there are other water coverage line items available on your Texas home insurance policy, these three we find to be the absolute most important.
Water Backup or Sewer Backup

This endorsement goes by either name and should always be included so that you aren't left cleaning up a bathroom covered in sewage.

Foundational Water Coverage

This endorsement is sometimes lumped in with a slow leak endorsement, but should be there so that you have the ability have coverage for getting into your foundation in the event of a leak in a pipe below the floor surface.

Seepage & Leakage of Slow Leak

This endorsement is sometimes lumped in with Foundational Water Coverage, but should be included to protect against those things that you simply will not see over time.
Water Damage Vs Flood Damage Is An Important Distinction
One thing that must always be mentioned when discussing water coverage on a Texas home insurance policy is the difference between a flood insurance policy covering your home and the home policy covering your home. Water that originates outside your home and comes inside will always be treated differently than water that originates from inside your home. Water originating outside your home will typically come in one of two forms, storm water that falls on your home or ground water than can rise to your home.
Storm water that falls on your home was addressed earlier in that it can be covered if it enters your home under a covered peril or on an open peril policy that includes wind driven rain. However, ground water that rises to your home will be classified as a flood and will require a completely separate flood insurance policy for you to receive economic benefit through a claim. Flood policies are sold in addition to your New Braunfels home insurance Policy and can be an inexpensive way to further protect your greatest asset.
Special Considerations For Water Coverage on Texas Home Insurance Policies
"After all of that information, you mean to tell me that there is something else I have to consider?"
Unfortunately the answer is yes. There are a couple of other things that must be addressed as they can greatly change how your Abilene homeowners insurance policy operates if you are not aware. The first and biggest consideration is a concept of a reduced or eliminated limit on water coverage. What that means for you is that even though all of the above information is applicable, the insurance can either limit the amount of money that they will pay out for a claim or pay you nothing at all. There are policies sold in Texas for various reasons that will cap you at $10,000 in water damage coverage. Or they will eliminate it altogether if your property has a history of water claims. They do this to keep their risk low or keep your premium down. Either choice is not great.
Additionally, there are scenarios where the state of your home can change whether or not a claim is covered. If your Colleyville home has been vacant for more than 60 days, many policies will exclude water coverage due to policy language whether you realize it or not. This has crept up on Texas homeowners selling a home that spends a long time on the market after they have already moved.
The other situation to consider is the dreaded winter freeze. While our climate is very temperate, everyone remembers the freeze that occurred in February, 2021. Every county in the state was under a freeze warning for the first time in our history. In that situation, it is important to take reasonable measures to eliminate the risk of the pipes bursting and flooding your home. Failure to take this action can lead to a coverage denial of a water damage claim and cost you thousands of money out of pocket.
One positive consideration to keep in mind is an optional coverage that can extend the coverage provided by your Texas home insurance policy. Service Line coverage is available with some carriers and will allow for the repair or replacement of water and sewer lines that run to and from your home to the main lines in the street. This can be a valuable endorsement for owners of homes that are a bit older since it will include coverage for wear and tear of the lines with some of the insurance companies that sell in the state of Texas.

True Texas Home Insurance Includes The Water Coverage Texans Need Most
With all of these options and exclusions and endorsements, it can become easy for the mind to swirl and not know exactly what action to take to make sure that your insurance covers water damage. Fortunately for Texans, the independent insurance agents at Insurance For Texans have a proprietary method for making sure that your ass-ets are covered through True Texas Home Insurance.
Our years of experience with home insurance claims from Beaumont to El Paso has helped us see where claims are made the most and which premium dollars are absolutely worth it. True Texas Home Insurance provides you with a comprehensive plan for Texas Home Insurance which includes water coverage where you need it most. Since we shop across multiple companies for your, you know that our recommendation to you will include those vital coverage items for water. If you are not sure whether or not your have True Texas Home Insurance, click here to take our quiz or click the button below to speak with one of our agents today.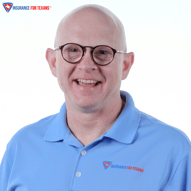 Ron Wadley is an owner and General Solver of Problems for Insurance For Texans. Ron is a resident of North-East Tarrant County in the Dallas-Ft Worth area. He loves riding his many bikes and watching his Baylor Bears play football and basketball. Send him your insurance questions at ron@insurancefortexans.com.