Builder's risk insurance policies, otherwise known as course of construct coverage, protect a person's or organization's insurable interest in building materials, fixtures, and/or equipment awaiting installation (or after installation) during the construction or renovation of a building or structure, should those items sustain physical loss or damage from a covered loss. Purchasers of builder's risk policies may vary, however, the named insured will always have some form of financial interest in the property.
There are several groups of eligible clients for a commercial or residential builders risk policy – all of which can purchase the policy in their name, including the following: property owners (homeowners), builders, contractors, commercial property owners, flippers, or even lenders. In the majority of new builds and financed remodels, lenders will require either the homeowners or the builder to purchase and provide proof of builders risk coverage for the project term.
What Does It Cover?
Builders risk insurance coverage provides property coverage only. Builder's risks cover property damage caused by things like fires, storms, vandalism, vehicles, etc. Some policies also cover construction materials stored off-site in temporary storage and cleanup costs like debris removal though this coverage may be limited. Depending on if you are insuring a new ground-up project or remodeling the type of coverage may respond differently.
For ground-up new construction, coverage is provided on a replacement cost basis for both materials that are stored on-site and the materials as they become a part of the home. This can include coverage for lumber, siding, flooring, roofing, fixtures, and other materials that will become a part of the completed project.
For remodeling/renovation projects, builders risk insurance policies can be written in several ways depending on the scope of your project. The first option is to insure both the existing structure and renovations under the same policy. This is typically the preferred option for house flippers. These policies will generally insure the property (or existing structure) at a depreciated value (actual cash value) while all renovations are insured as full replacement cost. This allows the existing structure to be insured for potential loss as well as the materials you are using to improve the property. The second option for the builder's risk on renovations is just to insure the renovation material with no coverage for the existing structure.
Regardless of what type of project you are looking to insure it is extremely important that you take into account what you are looking to insure so that you can purchase the correct limit of insurance.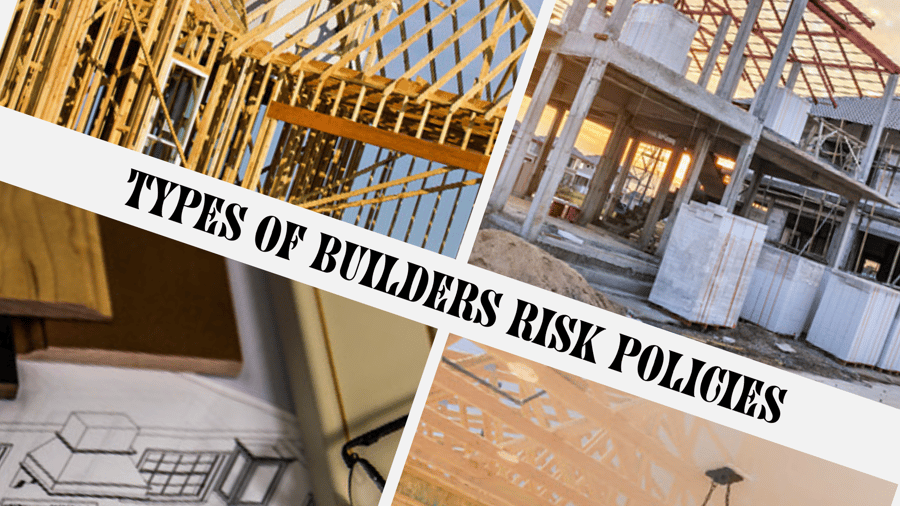 Types Of Builders Risk Policies
Builders risk policies can be written two ways depending on the number and frequency of projects you oversee at a given time. While a house flipper or custom home builder might construct/renovate 5-10 homes a year, some larger builders may be overseeing 20+ builds a year. Keeping track of all those projects and coverage limits can be difficult, therefore there are two options for insureds to consider.
The most common option for flippers, remodeling contractors, and custom home builders are single project policies. These policies are typically written in 6, 9, or 12-month periods based on the completed construction/remodeling value of a single project. This allows the insured to purchase one policy at a time to cover the project and then allows them to cancel the coverage once construction is complete.
In the case of a large tract home builder, the insured might consider a reporting form. This allows the insured to maintain all construction projects on a single policy. They then report monthly what projects are completed and which projects are starting so that they only pay the premium due monthly for the current projects underway. This allows for easier accounting when overseeing multiple projects throughout the year.
Determining which form you choose is overall dependent on how many projects you foresee in the future and discussing the projects with your insurance agent. These same forms are also available for builders working on commercial properties.
How It's Rated
When reviewing premium pricing for your structures under construction your agent will review several factors to determine the premium for your builders risk insurance policy.
Key drivers of builders risk insurance costs:
Total Construction Cost
Construction/Renovation Time Frame (6/9/12 Months)
Location of the Project (Proximity to Natural Disaster Areas)
Preferred Deductibles (Including Wind & Hail Deductibles)
Construction Type (Frame, Masonry, Steel)
Square Footage & Number of Stories
Including Flood or Earthquake (Optional)
Including Soft Costs (Optional)

---
Optional and Recommended Coverage(s)
Builders' risk policies, depending on the insurance company, can include additional coverage extensions for additional items including business personal property on site, trees/plants, soft costs, pollutant cleanup, drain backup, construction trailers, equipment breakdown coverage, and more. Reviewing and understanding the limits of coverage provided with standard policy is extremely important. Most policies included several common exclusions such as flooding and earthquakes but this coverage can be bought back if available with the carrier. It is also very important to note that not all policies include coverage for theft so reviewing the entire policy including all builders risk coverage forms is extremely important.
Another coverage often overlooked on builders risk policies mentioned above is coverage for soft costs. Base builders risk policies will not include soft costs unless selected. Soft costs are costs affecting property owners arising from delays in project completion due to covered perils. Soft costs that arise from a delay in project competition include loss of rental income, additional interest charges, marketing expenses, and a wide range of additional project fees (architectural, legal, engineering, and more). Without the addition of soft cost coverage with your builders risk coverage, you could be left with a substantial out-of-pocket expense as the project owner.
Last Things To Know
Builders risk coverage is a property policy form and does not include any coverage for liability. To make sure you have liability protection to protect your interest as the property owner it is recommended at minimum that you consider a premises liability policy. This provides liability coverage in the event someone (not under your direction) comes onto the property and bodily injury occurs. Coverage for bodily injuries is not included in builders risk, a separate liability policy is needed. On the flip side, requiring any third parties under your control to provide you with proof of their own general liability policy and worker's compensation is highly advisable. Builders risk policies do not include liability coverage so be mindful when discussing options with your agent.
Lastly, know when your policy expires. Builders risk insurance policies will vary based on the carrier but they all have triggers in the policy forms for when the coverage ends. Understanding these triggers is very important so that the building owner is not left without construction coverage once the project is completed.
Common triggers under builder risk coverage forms include:
The builders risk reaches policy expiration or is canceled.
The completed building construction is accepted by the purchaser
The policyholder's interest in the building or structures under construction ceases.
The covered property (building or structure) is abandoned with not intent to complete it.
When the building or structure is occupied or is put to its intended use.
After a certain (policy-specific) time after construction is complete.
In Conclusion
Finding the right builders risk insurance coverage for your next project does not have to be difficult, contact an independent agent, like Insurance For Texans. We will work with our multiple builders risk insurance companies to find the right construction policy for your next builders risk insurance project. In addition to builders risk coverage, we can also discuss available liability options to protect you from bodily injury liability claims and review other gaps in coverage you need to be aware of.
For a quote with one of our preferred builders risk insurance companies either call us at 469.789.0220 or complete the form below.