With open enrollment starting on November 1st, many Texans are evaluating their health insurance plans for 2020. While many focus on the monthly premiums and the deductibles, there is a hidden financial nightmare in some of these policies. This nightmare is called coinsurance and is how the health insurance companies can greatly increase the amount of money a major health event can cost you.
Copay vs Deductible vs Coinsurance
There are multiple terms that Texas Health Insurance companies use to signal that you are paying out of your pocket beyond the premium amount. Many people either confuse them or simply don't understand the difference between them. Let's break down the three common terms used today.
A Copay is a set amount of money that you pay to utilize a specific purpose that typically does not count towards any accumulation of payments. These are most commonly used with doctor visits, prescriptions, or small diagnostic services like labs or blood draws. This amount is typically in the tens of dollars and is applicable at each visit, fill, or test.
A Deductible is you paying money out of your pocket at the cost of the service rendered until you hit a specified amount. If you pay full price for a doctor visit, rather than a Copay, that total amount of money you pay will count towards your aggregate deductible. This amount is typically in the thousands of dollars and is summed across services on an annual basis.
Coinsurance is you paying a portion of money for each visit based on a percentage of the cost of the services rendered. If you have an hospital bill that totals $10,000 and you are asked to pay 20% coinsurance, you would be out of pocket $2,000 and the health insurance company would pay the remainder. This amount is can often run into the thousands of dollars and can be required before, after, or both before and after a deductible is met.
The reason to understand the difference in these three amounts is to understand how much money you can be out of pocket during a given year for healthcare expenses AFTER you have paid your health insurance premiums.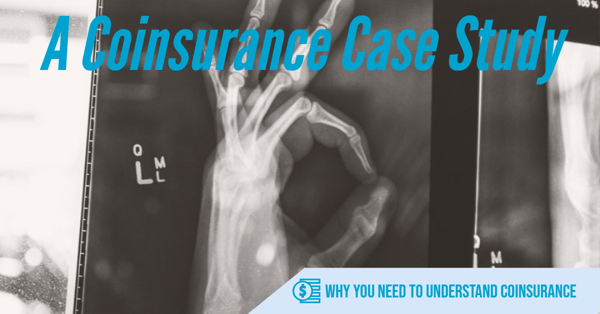 A Coinsurance Case Study
Let's look at Texas Ted and the way his health insurance policy actually works.
When anyone in Texas Ted's family goes to see their regular doctor, they pay a $40 copay. If you remember, the copay doesn't count towards your deductible amount. If you go to the doctor once, it's a $40 add on to your premium. If someone goes once a month, it's suddenly an additional $480 extra per year.
The individual deductible per year for up to three members of Texas Ted's family is $3,000. That means if all three members hit their deductible in one year due to needing healthcare, Texas Ted can be out of pocket an additional $9,000.
AFTER Texas Ted meets an individual deductible, that family member then has to pay 20% coinsurance. The coinsurance amount is capped at an additional $5,000 per person up to a maximum of $10,000 per family per year.
That means that Texas Ted can be out of pocket a total of $19,000 after all deductibles and coinsurance maximums have been met. YIKES!
If Texas Ted had been working with an agent from Insurance For Texans, he could have structured his policy differently. It can make sense to shuffle the deductibles up to $6,000 for an individual and only two family members while keeping the coinsurance capped at $2,000. That would mean that the maximum out of pocket would be $16,000 and the monthly premiums would be less as well since the deductible would be significantly higher.
Understanding your coinsurance amount is important when evaluating a Texas Health Insurance policy. Since it works hand in hand with the deductible, it can have a drastic impact on your out of pocket costs as you use your policy provisions throughout the year. If you are looking to understand what makes sense for your family and have questions, let us help you find a solution to your family's needs. As an independent insurance agent, we work on behalf of you and not some big insurance company. Let's talk today.