Do you ever take a look under the hood of your car thinking you can revive it from whatever is wrong with it?
My first car was a 1974 Chevy Malibu Classic with a V8 engine and four barrel carburetor under the hood. It was a menacing sounding car when I had the glass packs installed instead of the muffler. And it's simplicity made it easy for me to work under the hood in my parent's driveway when things went wrong. Health insurance used to be just like my '74 Chevy.
When I think about trying to work on my Subaru Outback today, I realize that it is just a bit different than it was 50 years ago. With all of the electronics involved, my lack of tools and experience makes that a tough proposition. Frustrating to say the least. But fortunately there are professionals that have the tools, skills, and experience to help me.
Health insurance for Texans today is a lot more like my Subaru than my Chevy. Whatever I thought I understood about it once upon a time, seems to just become too complicated for the average person to figure out on their own. That's why insurance For Texans is here to help people just like you.
---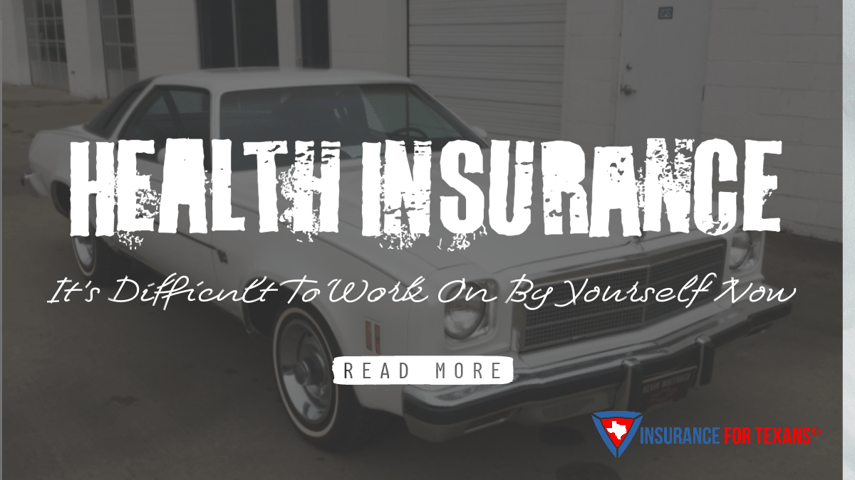 What Texans Are Saying Today!
We have talked to folks all over this great state of ours and even beyond our borders about health insurance. It doesn't matter who you talk to, there is a common refrain.
1. Health Insurance is confusing as hell!

2. Deductibles have gotten stupid high!

3. My doctor always seems to be out of network!

4. Why are my prescriptions cheaper without insurance?

5. What is the point if nothing is covered?
Those statements from people just like you fall more in line with trying to work on a brand new car with all of the dashboard lights on throwing more diagnostic codes than a reader at Auto Zone can process. How are you supposed to work on that beauty yourself!?!
The great news is that much like a mechanic at the best import shop in town we can work with precision on exactly your needs. Our independent health agents have spent years learning and honing their craft to provide you with the plan or plans that best fit your needs rather than trying to guess like some random person in a giant call center.
If you're in need of help to make sure that your health insurance is humming along, we have plans for you. It doesn't matter if you own a business and need an employer based plan, need a catastrophic plan to wrap around a direct primary care contract, or an individual plan for either a short or long term, you can read details below or simply call us at 469.789.0220 to get started.
---

Employer Based Health Plans
One of the most important things a business can do to acquire and retain very talented employees is providing access to a GREAT health insurance plan. That is true whether you have two employees, two hundred employees, or two thousand employees. The great news is that Insurance For Texans can help your business find the right plan for them as we work with all ends of that spectrum. And while that marketplace is always changing, there are some things that you can always count on!
Small Business Options
If your business has at least one other employee besides the business owner, but is less than 50 in total the marketplace has robust options available today. Many in this size range choose to work with a fully underwritten self-funded health plan that will allow the business to save money over fully insured plans if they meet the right criteria. Our health agents have access to great companies who operate in this space specifically, so you can know that your employees will have access to the healthcare that they need when the circumstances arise. This is how you attract top talent to continue to grow your business!
Larger Business Options
As your business moves beyond 50 employees, a different set of insurance companies emerges to handle your bustling group of employees. You will see the more "traditional" health insurance companies begin to price aggressively to attract your business into their networks of providers. We also work with brokers who can provide alternatives to those bigger name carriers who can get creative in their offerings to you. Either way, our independent agents will work closely with your people to make sure that your employees have access to the hospitals, facilities, and doctors that they want to see and use. In the current cut-throat environment of employment, having a great health insurance plan can make or break your ability to keep those positions filled with the right people.
Additional Benefits Available To Both
Supplemental Plans: One way to differentiate your business is to provide your employees with some extra supplements to their traditional health insurance plan. This can be done by adding on plans that cover gaps or eat up out of pocket costs for them as an extra benefit. Parents of sports loving kids can leverage an accident policy. People with a history of cancer would love a cancer or critical illness offering. And a wide range of indemnity plans can help you eliminate those pesky high deductibles that seem to be everywhere right now.
Vision & Dental: Most Texans have grown to believe that a benefits plan without a dental and vision plan is no real benefit at all. Fortunately for them, our agents can help you with those plans as well. Have you ever seen a plan that offers a free motorized toothbrush along with replacement heads? We have and think it's an excellent perk to make your employees happy. This is just an example of how we can make your business look like a hero when it comes to these ancillary add-on parts of your health insurance plans.
Where do we go from here? The bottom line, is that seeking a consultation with our independent health agents means that you can better understand all of the options that are available to cover your employees healthcare needs.
Click the button below to get started with a conversation with Insurance For Texans and make sense of how to best offer health insurance to your employees.
---

So What Are My Individual Health Insurance Options In Texas?
If you are not able to obtain health insurance coverage from an employer, many people think that they don't have many good options. While you may not find a perfect solution, the reality is that there are many options available to you that can make a very workable solution. We will list out potential options below so you can begin to understand how some of them will work either in solo or tandem to make your life easier when deciding how to obtain health insurance.
One of the first options that individuals consider is the ACA Marketplace or ACA Exchange. These health plans are also known as "Obamacare". Since being deployed in 2014, there has been a lot said about these plans both good and bad. Your perspective of these health care plans is usually swayed by how they specifically impact your situation. There are five specific pieces of information that you need to immediately consider with these plans.
If you have a pre-existing condition, this will absolutely be your best option available since there are no exclusions.
Your zip code can make all the difference in the world since some plans/networks are only available in specified zip codes.
Open Enrollment for a calendar year occurs during November and December. Plan accordingly if you don't have a qualifying life event.
These plans are required to provide preventive care, maternity/childbirth care, mental health care, and prescription benefits.
This is not medicaid or medicare coverage though it is regulated heavily by the government.
With those considerations in mind, it may make sense for you to stop here on your list of options. These plans do not have lifetime maximums and are both guaranteed issue and guaranteed renewable year after year. If you are dealing with a long term health situation it will make your life easier and better.
When the Affordable Care Act was passed in 2010, the Exchange referenced above was born. Since it had Open Enrollment as its vehicle to obtain coverage, the politicians quickly realized that people could roll off coverage mid-year and need an interim solution. Short Term Medical Plans were born. They've gone through some overhaul through the years as a result of changing legislation, and the results have been mixed for consumers. Here are five things to consider about them.
These plans are underwritten which means that a pre-existing condition could prevent you from obtaining coverage!
These plans can be for as short as one month or can be extended for up to a year. Maybe. Legislation changes extends and shortens the maximum duration with each new law.
The diversity of plans available is helpful. Deductibles range from $1,000 to $25,000 and some plans include co-pays for office visits.
These plans can be non-renewed in the event of a major condition diagnosis mid-term
These plans will have a maximum lifetime benefit amount.
Beyond that, the networks are good and are based on a PPO type policy. They do not cover preventive care, maternity care or prescriptions in many instances. But for many the savings on monthly premiums are phenomenal and more than make up for any out of pocket costs. They can be paired with ancillary coverage like dental and critical illness policies to provide a robust package.


A type of health insurance plan that is making a comeback is the Catastrophic Health Insurance plan. These plans are traditional major medical policies that are focused on the big expenditures that from accidents, critical illnesses, and hospitalizations. For those that "never go to the doctor" and just want to make sure that a major event does not ruin them financially it can be an excellent option. That's because they do not interfere with regular doctor visits or minor acute care. The plan is built off of three main pillars.
Critical Illness

policies provide protection against major illnesses in life that create large medical costs like stroke, heart attack, and cancers.

Accident

policies provide protection against hospitalizations that occur from car wrecks, sports accidents, or other major trauma to the body.

Hospital Indemnity

policies provide defined benefits to cover out of pocket expenses as well as costs associated with surgeries and hospitalizations.
These plans are underwritten, so pre-existing conditions do come into play. However, they work extremely well with the world of Direct Primary Care. They are VERY cost effective since they do not involve themselves with primary care and minor acute visits. As a result, they make a great option for the budget conscious, the young and healthy, and those pairing it with very regular care from a PCP.
Health Share Plans have been around for several decades. Traditionally they have been faith based and were focused on those living a certain life style that limited exposure to certain health care events due to that lifestyle. The plans are focused on the sharing of major health care costs beyond primary care and as a result tend to be cost effective. The plans began to explode in popularity as the Affordable Care Act Tax Mandate went into effect during the 2010's. As a result, there was proliferation of options, share plans, and some that were not faith based. However, there are some drawbacks to these plans that have to be mentioned.
These plans ARE NOT actual insurance. This means that you have little recourse if they don't actually execute on the contract.

Pre-existing conditions can be excluded while you can be covered for everything else.

Since the premise of these plans is to reimburse you for things you pay for, it can create an interesting cash flow situation in a major event such as on-going cancer treatment.



These plans are not for everyone, but we can definitely break down the pros and cons of many of the major ones. They can be a great solution, but you also have to tread lightly as there have been some major problems when due diligence is not performed.
If you would like to learn more about the health insurance options available to all Texans, we recommend doing a preliminary fact finding call with our agents. Each situation is as unique as the Texas landscape and we appreciate that. As a result, there is some basic info that we would need to discuss. Click the button below to schedule that consultation.