Does Health Insurance Confuse You?
We Take The Guesswork Out Of Choosing A Health Plan
If you're like Stacy who called our office last week, you're absolutely fed up with health insurance. She no longer had access to a group plan through an employer since she had decided to start her own business. The part that no one told her beforehand was that once her COBRA benefits ran out that getting insurance was going to be a giant pain in the backside. Stacy had been looking at the Healthcare.gov website and was overwhelmed by the dozens of options available to her that all looked the same. Not only did they look the same on that screen, none of it really made sense to her. She was frustrated.
We hear from someone like Stacy everyday. The only people who seem to win in this battle of the health insurance wits are the executives of the giant corporations that are all fighting over your hard earned money that they collect in premium dollars and copays! While we can't promise unicorns and rainbows, we can promise to help your sort out the details of all of the options available to Texans in search of health insurance so that you can make the best choice for you while understanding what the heck is going on with your choice.
So What Is Really Going On With Health Plans In Texas?
Do you feel like Stacy and wonder just what in the hell is going on? We've talked with many Texans about health insurance. They have a list of common complaints.
Why is all of this so complicated?

My Doctor Isn't On That Network!

Why Is My Medication So Dang Expensive?

My Deductible Is So High I Don't Understand What I'm Paying For!

Can I have catastrophic coverage that doesn't require a $20,000 deductible?
It's easy to see why people really hate this stuff. We agree that it's complicated and it feels like the numbers are just absurdly not in your favor. You are not alone in feeling this problem. The great news for you is that there is a plan to make sure that you get what you need to have useful health insurance for you and your family.
The Health Insurance Plan For Texans!
When looking at your individual health insurance plan, there are five questions that have to be asked.
Do you qualify for Premium Reductions (aka Subsidy) through the ACA Exchange Marketplace?

Do you qualify for Private Health Plans?

What is your Maximum Out of Pocket dollars at risk if a major event happens?

Can you leverage Outside Help like a Limited Benefit Plan to reduce big expenses?

What are the specific doctors, facilities, or medications that need to be covered?
Using these questions, we can help you find a health plan that fits both your budget and needs. When Texans begin to understand what drives their ability to use health insurance and how to manage costs for things like prescriptions and premiums, the comfort level in making a choice grows.
We've used these questions with countless folks like yourself who simply connected with us using the form below to take control of their health insurance journey while. This process will help you navigate the hundreds of options available to you.
Let us take the guesswork out of health insurance for you today so that you can rest easy knowing that your family is covered for what they need. Using our five questions above and the four step plan below, we can help you find a GREAT health insurance plan for your family. We have helped people from all over this great state and are working for you, not the big insurance companies.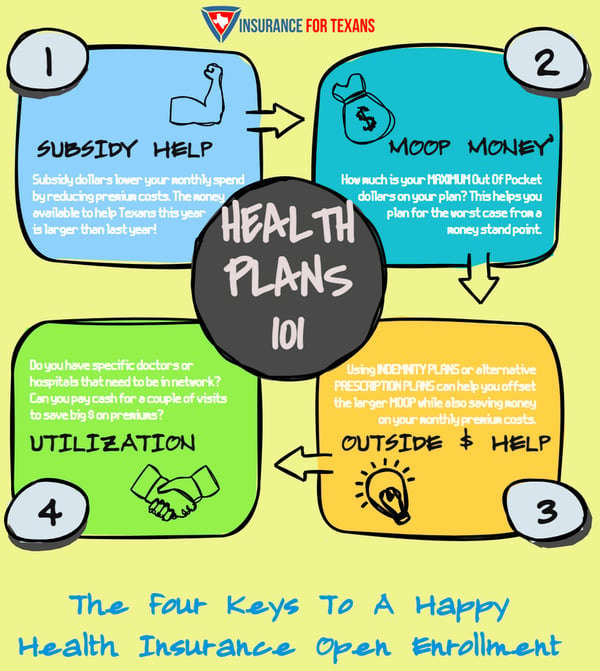 Curious, but not quite ready to move?
We get it. The rules for health insurance have gotten a bit wacky. And the prices are even worse. Let us help you sort it out.
If you're shopping for health insurance in Texas, it's jarring when you realize just how much it costs, how big your deductible is, and how small the networks have become. It's hardly Texan at all.
Insurance for Texans has spent the last few years finding companies that treat Texans the way we think they should be treated. Having options means that you can get an exchange based plan, a catastrophic plan with reasonable deductibles, or a temporary plan to cover a gap. We've also found ways to lower OUTRAGEOUS deductibles.
Click the button to schedule an initial consultation with one of our professionals to get started on your journey to a better experience!