The mark of a true Texan's backyard is no longer 12-acres, horses, and a dozen head of steer.
No, true Texans these days have more domesticated tastes in the form of:
BBQ Equipment



What many Texans don't realize is how these items may affect their premiums on their Grapevine Home Insurance. Insurance companies may view these items as more potential risk to your home.
Pools require a fence around it and there's always some inherent danger around slippery surfaces, people and water. BBQs always have some risk to them and those who operate them and trampolines are a pediatrician's nightmare.
Knowing the big windstorms that occur here in the D/FW Metroplex, you wouldn't be surprised if we tell you how many trampolines are at the danger of going airborne if not properly secured.
---
What If My Trampoline Does a Peter Pan into My Neighbor's House During a Storm?
Insurance for Texans has access to a wide array of insurance carriers that can help with a potential claim. The question at stake: Who is liable for said trampoline? Let's explore!
As the owner of flying trampoline, did you secure it properly, as in, the way the instructions guided you to, or did you call an audible and say a single bungee cord would be enough?
If yes to securing it properly, it will be hard to find you negligent for a windstorm that turns your trampoline into a flying saucer.
If no, well then your personal liability coverage on your policy will need to work in your favor to keep you from paying for the damage out-of-pocket.
How Do I Protect Myself?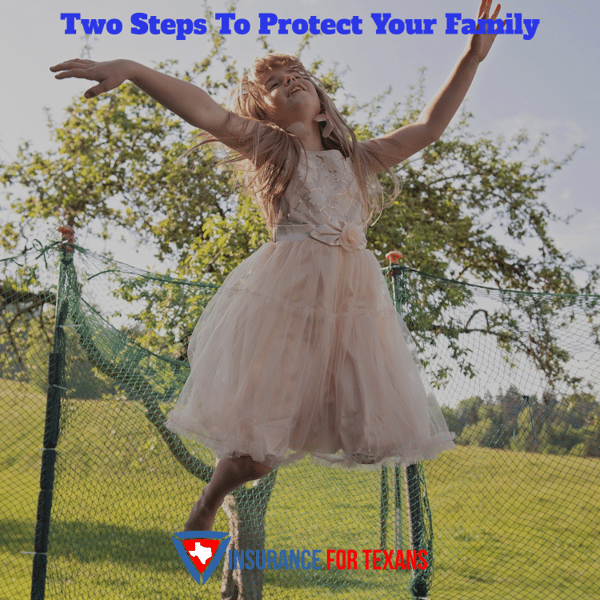 Here's how to properly protect yourself as a Texas homeowner with trampolines in the backyard.
1. Secure that Trampoline!
This is the largest mistake trampoline owners make and it's so easy to avoid. Securing not only keeps it from flying off during a storm, it also helps to protect the users on an everyday basis. If you don't think trampolines can flip, turn on America's Funniest Home Videos. They've been banking on that action as laugh material for years.
2. Maximum Personal Liability Coverage - Get It!
An increase of coverage to $500,000 or $1,000,000 will cost only a dollar or two more per month. In that you get more peace of mind knowing if your trampoline flies heavenward, you won't need to pay through the nose. Saving a dollar or two per month, or keeping yourself financially at risk, what's your preference?
That's it. Two simple steps that can alleviate the ugly lawsuit and keep you the cool neighbor with the fun backyard.
We want to answer your questions. As a local, independent insurance agent, we have options for you that will help you sleep better at night knowing we've found you great coverage at value.
You won't need to jump through hoops or on trampolines for us to help you.