What is Supplemental Health Insurance?
For early retirees in Texas who are not yet eligible for Medicare, the cost of healthcare can be daunting. Health insurance premiums, out-of-pocket expenses, and medical costs can quickly add up and eat away at the monthly income that you are counting on. Supplemental health insurance can serve as a valuable addition to primary health insurance coverage by helping to fill in gaps in coverage, provide extra benefits, and eat away at deductibles, copays, coinsurance, and other out-of-pocket costs. Smart Texans use supplemental health plans to help cover up those gaps.
Supplemental health insurance, also known as limited benefit plans, is intended to supplement your primary health insurance coverage. It helps to cover out-of-pocket expenses such as copayments, coinsurance, and deductibles that your primary health insurance doesn't fully cover. Supplemental health insurance can also provide additional coverage for prescription drug coverage, vision care, dental care, and hearing aids, depending on the plan. It is important to note that supplemental health insurance policies are intended to work alongside a primary insurance policy and not to be used as a primary plan. In Texas, there are numerous supplemental health insurance options available for early retirees to help fill in any gaps in coverage and protect them from unexpected medical costs.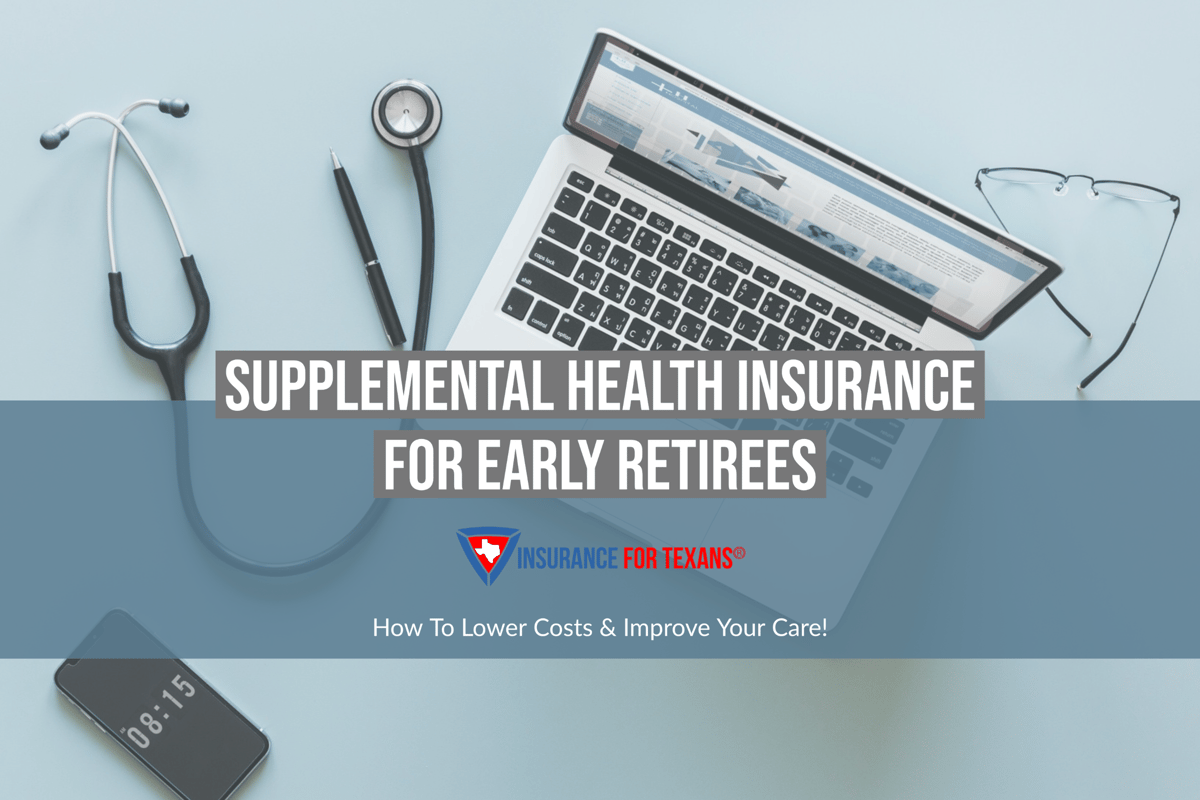 Who Can Benefit from Supplemental Health Insurance?
Supplemental health insurance can be particularly helpful for early retirees. Those who retire before the age of 65 may have gaps in coverage while waiting for Medicare eligibility. Supplemental insurance can help cover out-of-pocket expenses such as deductibles, copays, and coinsurance, as well as provide coverage for pre-existing conditions that may not be covered by traditional health insurance.
While families of all ages can benefit from these limited benefit plans, they work exceptionally well as a part of an early retiree health coverage plan. This is because many folks in this age range have a preexisting condition that forces them into the Health Insurance Marketplace. AKA Obamacare. As a result of this medical history, the health insurance companies have a tendency to offer plans with higher deductibles, higher out of pocket maximum costs, and smaller provider networks. Nevermind the potentially reduced prescription drug coverage. Insurance For Texans agents guide those seeking early retiree health benefits to evaluate the supplemental plans like accident, critical illness, or even indemnity when looking at health insurance marketplace plans for these financial reasons.
Supplemental insurance can help protect early retirees from financial burdens associated with healthcare costs. Having extra coverage can provide peace of mind and help ensure that healthcare costs do not derail financial plans.
Reasons to Consider Supplemental Health Insurance in Retirement
Retiring early is an exciting milestone, but it also comes with financial challenges, especially when it comes to healthcare. As you get older, health issues become more common, and healthcare costs can add up quickly. When you're not eligible for Medicare, finding affordable health insurance coverage can be a challenge. Fortunately, losing coverage through your work triggers a special enrollment period for you with the Marketplace plans. But since those medical insurance plans can leave gaps, it's essential to consider supplemental health insurance. Let's look at how to protect yourself from the high costs of healthcare in retirement prior to Medicare kicking in.
Lower Premiums and Out-of-Pocket Costs
If you're retiring early and looking for ways to save money on your cost of health insurance, then supplemental health insurance could be a great option for you. We find that buying retirement health insurance options with a higher deductible paired with a limited benefit plan can result in lower premiums in total. And since the limited benefit plans can reduce or eliminate your out-of-pocket costs, it becomes one of the most affordable ways to secure retiree health benefits prior to going on Medicare at age 65.
When Texans secure coverage through the health insurance marketplace, the Affordable Care Act provides premium tax credits based on your income level that can offset a large chunk of the premiums. By using a portion of the savings from the income-based tax credit to fund your supplemental health insurance, you can lock in the amount of money at risk from unexpected out-of-pocket costs. This can help early retirees better manage their healthcare costs and enjoy a more comfortable retirement. Keep in mind that cost-sharing reductions may also be available for those with lower incomes, further reducing the amount you have to pay out of pocket. If you're looking to lower your premiums and out-of-pocket
costs, then supplemental health insurance is definitely worth considering.
Coverage for Pre-Existing Conditions & Life Events
When it comes to health insurance, life events like job loss or retirement can cause gaps in coverage. Pre-existing conditions can also make it difficult to find comprehensive health insurance coverage. However, supplemental health insurance can help bridge these gaps and provide extra benefits.
For those with pre-existing conditions, supplemental health insurance can offer coverage for services and treatments not covered by their primary insurance. Additionally, some supplemental plans may offer discounts rather than prescription drug coverage which can be beneficial for those on Short Term Medical Plans.
Life events like moving to a new state can also cause gaps in health coverage. In these situations, supplemental health insurance can provide extra benefits like coverage for accidental injuries, critical illness, or hospital stays. Overall, supplemental health insurance can be a valuable tool for those with pre-existing conditions or facing gaps in health coverage due to life events. It can offer peace of mind and financial protection when unexpected medical expenses arise.
Retirement Security & Peace of Mind
Early retirees often face the challenge of managing their finances while also ensuring adequate healthcare coverage. With retirement security and peace of mind being top priorities, it's important to make sure that your medical coverage is not compromised. Without adequate coverage, retirees can face significant financial risks in the event of a medical emergency or unexpected health costs. Supplemental plans like accident and critical illness can make sure that those major, unexpected events don't derail either your health or finances.
Choosing a Supplemental Health Insurance Plan
Making the decision to retire early can be liberating, but it can also come with a lot of uncertainty and potential financial risks. Especially when it comes to managing health care costs. Without adequate coverage, Texans who retire before the age of 65 may find themselves facing significant expenses from medical bills and emergencies. Even with the right short-term insurance in place, we find that supplemental health insurance plans can help protect you from unexpected costs and provide peace of mind. Deciding upon which plans to include to cover medical expenses that arise is a critical part of choosing the best early retiree health benefits.
Researching Different Options & Companies
When selecting public or private insurance as an early retiree, it's important to consider the cost of healthcare, your health status, and ALL health insurance coverage for retirees. Texans can research different companies based on their coverage plans, monthly premiums, out of pocket costs, extra benefits, and customer satisfaction ratings. The different companies offer a range of plans, from basic coverage to comprehensive coverage with extra benefits like dental and vision care.
We recommend working with an independent insurance agent who can look at Marketplace plans, Short Term Medical Plans, Private insurance, or even Health Sharing Plans. Having an experienced person who can look at all viable options for your circumstances and medical conditions will help you make an educated choice. Insurance For Texans agents have helped many Texans retire early and enjoy life. Click the button below to get help evaluating and understanding your options for insurance today.