With health care costs continuing to skyrocket, many Texans attempting to retire a couple of years early are feeling the financial burden that comes with not only their health insurance premiums but also their out of pocket costs. Unfortunately, it has meant that some of those Texans can't find a way to retire when they want to on their own terms. Thankfully, there are ways to reduce the amount Texans are spending on both health insurance premiums and their out of pocket costs without sacrificing all of your coverage or losing access to your health care providers.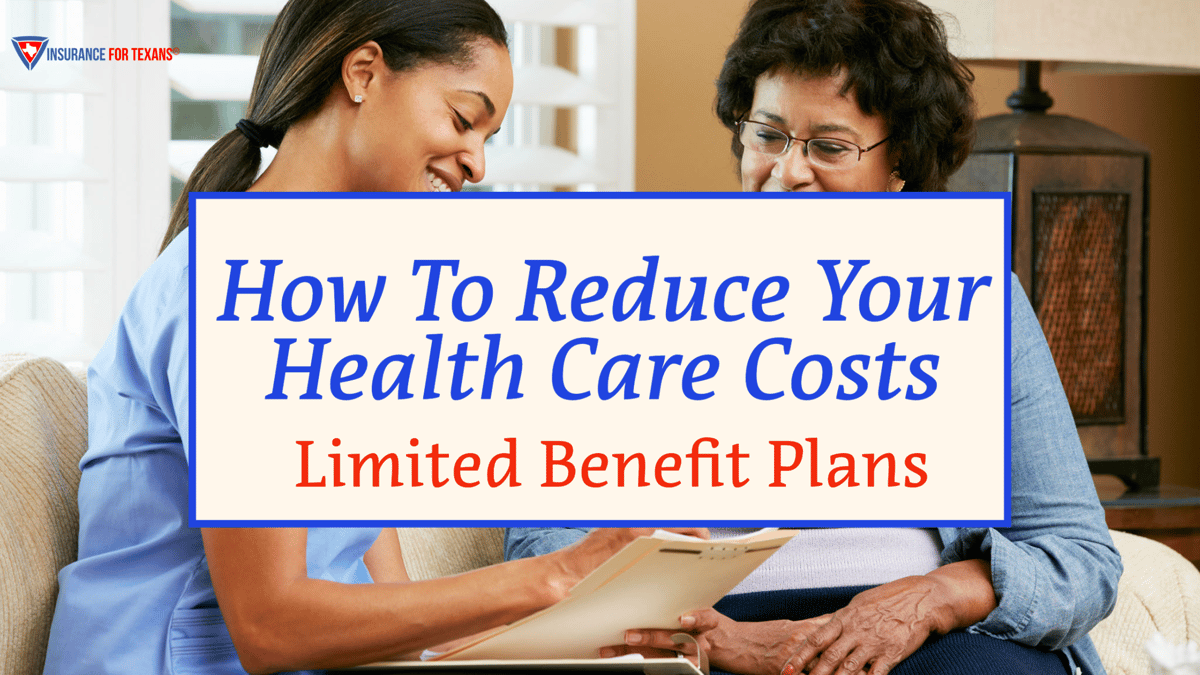 We see many folks trying to retire prior to 65 attempt some creative ways to lower their health coverage costs. Some of them are good and some of them are not so good. By understanding how your major medical insurance plan works and what they entail, there are mechanisms that you can use to lower your overall spending on healthcare while also not leaving yourself or your spouse in a bind with essential health benefits. The last thing you want to do is wipe out all of your savings and have to go back to work!
Why Does Texas Healthcare Cost So Much?
Over the last 40 years, healthcare costs have exploded compared to overall inflation. Doesn't matter if you are in Lubbock, Ft Worth or Austin, we all feel it. But why does Texas healthcare cost so stinking much? The answer lies in a variety of factors, from the rising cost of covered expenses for medical treatments and medications to the overhead costs associated with running a hospital or physician's office. In addition, insurance companies are often involved in complicated negotiations with the doctors or their networks over what they will cover and how much they will pay to have the treatment done for you. If you add in the riding costs or prescription drug coverage and your head can begin to spin. All of this adds up to high prices that can be difficult to bear for many people. Nevermind the headaches that come with navigating the system or the health insurance marketplace.
The good news is that there are ways to save money on healthcare without sacrificing your quality of care even if you have a pre-existing condition. The high cost of healthcare can be daunting, but with research and careful planning, you and your local independent insurance agent can find a plan that meets your individual needs while saving you money in the long run. For many folks, that can mean leveraging more than one type of health insurance policy to creatively cover all of your bases on both out of pocket costs as well as typical eligible expenses that can balloon. Pairing a major medical insurance plan with specific strategies will help you reduce the overall cost of healthcare whether you are on marketplace coverage, short term health plans, or even a health sharing plan.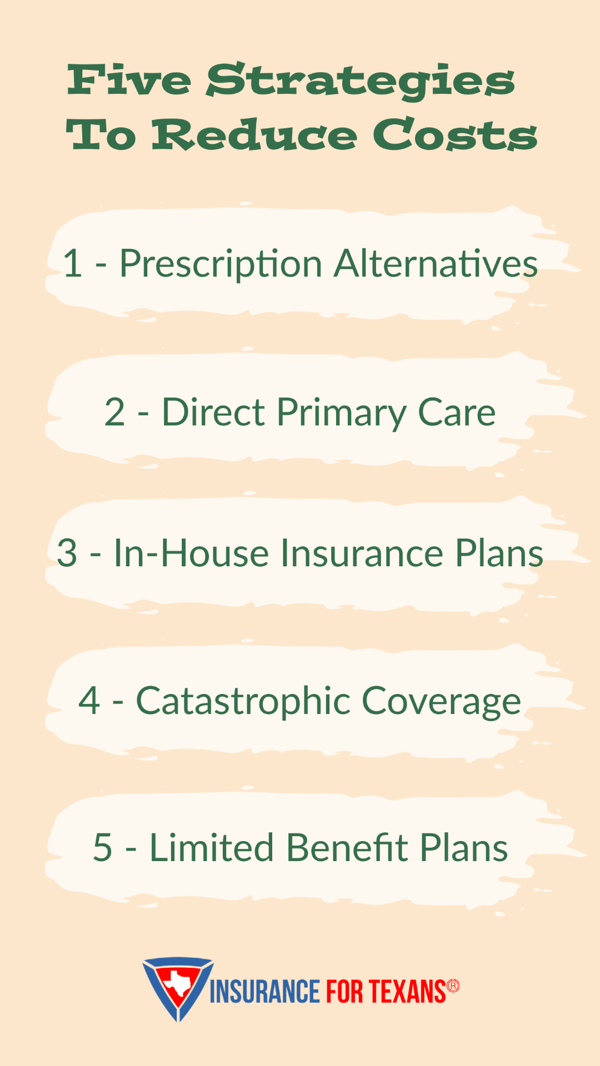 What Are Some Strategies For Reducing Out Of Pocket Expenses Or Medical Care?
Reducing out-of-pocket expenses doesn't have to mean sacrificing all coverage. With careful planning and taking advantage of available cost saving measures, you can get the quality coverage you need at an affordable price while still getting the medical attention that you need. Here is a list of possible measures to save money.
Use a service like Cost Plus Drugs or

GoodRx.com

to save money if your prescription drug plan is not adequate
Use a

direct primary care doctor

to monitor and treat your primary health coverage needs rather than worrying about having low copays for PCP visits for your Chronic Condition
Use an in-house insurance plan rather than buying an individual dental insurance plan or an individual vision insurance plan
If you do not use the healthcare system for many visits or preventive services, leverage a catastrophic only health insurance plan to reduce premiums and pay cash for basic health care services
Pair a limited benefit health plan with your high deductible major medical insurance policy to limit your out of pocket expenses that will arise
While all five of these strategies can be useful in one way or another, for this article we are going to focus on the use of a limited benefit health insurance plan. Let's look at what a limited benefit plan is and how you can use it to successfully lower both your annual sunk cost in premiums while also reducing or eliminating your out of pocket costs altogether for eligible expenses.
What Is A Limited Benefit Plan And How Does It Cover Expenses?
Over the last several years, the media has covered how limited benefit health insurance has not been great for Texans. They have highlighted how these plans may not provide robust prescription drug coverage, allow for preventive services, or have greatly reduced covered expenses when a major health event arrives. And while that is true, the fact of the matter is that the insurance company or agent likely did a poor job of explaining what the covered services were for the plan and how they were dangerous due to the maximum limit of coverage provided. The phrase limited benefit plan should obviously not be thought of as comprehensive coverage. So why do we bring these plans up? Typically speaking, limited benefit plans will be classified in two major ways that can be of great benefit to the fine folks of Waco.
First, they can be an indemnity policy that will provide direct reimbursement to the insured person when specified care is provided by health care providers. This specified care be a simple office visit or could be a night in the hospital. The policy will spell out exactly what an eligible expense is for reimbursement and what the maximum amount of money that can be reimbursed for that covered expense. So an office visit with your doctor might be eligible for a reimbursement of $100 while your night in the hospital could be $1,000. That reimbursement happens when the event occurs.
Second, these plans can offer broader eligible expenses that are more traditional in their billing concept for a narrow scope of conditions. If you have an accident specific policy, it can provide coverage for any treatment specific to an accident that you are involved in up to $50,000 whether it happens in an ER, Hospital, or Doctor's office. The same would be true for a cancer policy as well.
These two types of plans can be used in conjunction with other health coverage to cover up either high deductible health plans or out of pocket medical expenses. This is true whether your current plan is through the health insurance marketplace, COBRA, Catastrophic, or other private means. These plans can be used for non-covered expenses on your current plan, low-value care or copays even. That means if you want to reduce your premium costs for marketplace coverage because you have a chronic condition using a higher deductible amount, you can subsequently by a low cost indemnity plan to eat away at your out of pocket expenses while not sacrificing your preventive services that come with those plans.
Additionally, if you are worried about your insurance company not having a great network for cancer treatments on your health insurance marketplace plan, the limited benefit critical illness plans can open up the ability to get outside health networks while keeping your covered services at high levels. These kinds of strategies mean that high deductible health plans paired with health savings accounts can be leveraged to accumulate some extra tax savings while not sacrificing covered services. We find this to be wildly beneficial to Texans just like you.
How Do Texans Get Limited Benefit Plans?
There are many types of limited benefit plans from the various health insurance companies that operate in Texas. You first need to determine how they fit into your overall plan whether you are using marketplace coverage, short-term health plans, catastrophic coverage, or COBRA based on your personal situation that involves pre-existing conditions, prescription drug plan needs, your ability to cover non eligible expenses. Once that is determined, we recommend working with an independent agent at Insurance For Texans to help you decide on the need for a critical illness policy, accident policy, and/or indemnity policy. Since our agents represent multiple insurance companies, we can help you find the right plan to bridge the gap into medicare so that you can rest easy knowing that your annual physical isn't going to bankrupt you and force you back to work.