Insurance For Texans will receive our fair share of calls from homeowners wanting to know about potential policy claims on their Grapevine home.
Surprisingly, not many know the difference between home warranty and home insurance policy. No worries. We get that insurance isn't on your mind everyday like it is on ours.
We thought we'd help out with a quick hitting list to help you out.
Roofs

If you have an older roof, you may find any claim on that roof after a damaging thunderstorm may make things a little complicated. Just because that storm came roaring through North Texas with the brute force of a vintage Mike Tyson uppercut, it doesn't necessarily mean the storm is responsible for warranting a replacement. It could actually be due to be worn out from the previous exposure to the Texas elements.
Never let someone other than a quality (and insured) roofer near your roof if you're going to have them inspect it.
Any roofer worth their salt will know whether or not the damage warrants a repair or will require a full replacement job.
It doesn't make much sense to file a claim if the cost of the repair will be less than the deductible.
Things that Move Or Heat Water

Hail gets the number one spot when it comes to the largest amount of claims we deal with in Tarrant County. After that . . . you guessed it, water claims.
Good thing that a policy on your home though IFT will help to remedy any water damage caused by burst pipes, leaks or a combination of both. But, if you're expecting to get a new water heater paid for in the case it goes south on you, think again.
A water heater, just like a pipe that needs repairing, is considered a maintenance issue, not covered by your homeowners insurance policy.
Stuff That Just Comes Up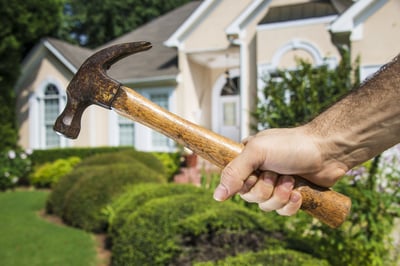 Stuff comes up that you will want to repair. Though we know we can help you through the process of whether to claim or not to claim, it's always important to remind homeowners not to claim if the cost of the repair doesn't even meet the deductible on your policy. The chances are your claim will not pay a benefit and now you'll end up paying an extra amount, or surcharge, on your policy due to a claim. Double whammy.
Why trust the big agency on the television which is more than likely going to tell you to file a claim and not consult you on whether or not it's in your best interest.
These are just a few of the many things we know about insurance, especially the type of things causing people to make claims in North Texas.
If in doubt, we'll help you out.
Give us a call!