Self-storage units are plentiful in the DFW area.
So are the questions about what to do to insure them.
We'll say it again, a good answer is . . . it depends. Insurance policies for your Grapevine home do have provisions within for your personal property not located at your home.
If you have a homeowners policy from what we consider a standard insurance company (think Travelers, State Auto, or Mercury), you will find a provision in the policy denoting Personal Property Off Premises.
This is not optional coverage from these carriers. This gives you protection for your possessions located off your property, say, in your storage unit.
This coverage is usually 10% of your personal property coverage. So, if you have $200K in personal property, you would expect $20K in personal property off-premises coverage.
What If I Want More?
It's not uncommon for some companies to allow you purchase additional coverage done via endorsement. Your carrier will determine how much that amount can be. However, expect your premium to increase with the purchased coverage.
Is There a Catch?
No, not really. The 10% is as advertised. Prior to any payout, your Other Perils Deductible will be applied. Any loss you incur involving your personal property away from your home will need to be at a loss amount high enough than the deductible you would pay to receive the benefit.
One question to consider is what your personal property is used for. If tools you use for your job get stolen or damaged, most policies will not cover without an endorsement stating business use.
Work related property should be place on a separate commercial insurance policy.
There's some good news. This can be an economical form of protection for most people with work-related property worth protecting.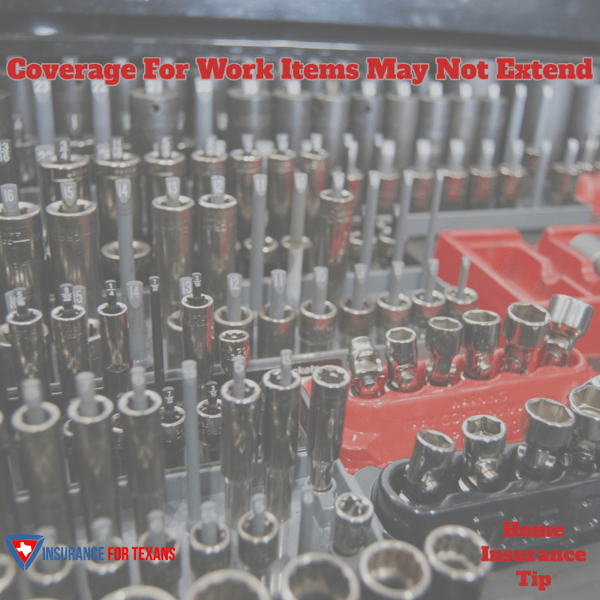 Should I Consider Anything Else?
Sub-limits is not an order inhibitor at your favorite sandwich shop. No, it is the limitation of the amount of coverage of off-premise personal property an insurance carrier will issue depending on that property.
Guns, fine art, these type of items will have a specified maximum amount of coverage stated on the base form of your policy.
The amount covered could fall below the 10% limit for personal property due to this sub-limit.
Other than this, you shouldn't have any issues. You would want to remember to file a police report if your personal property is stolen. Theft claims are beyond difficult to prove without one of these.
If you have little to no idea of what you have, or if you know what you have and it's not enough, let's talk. Insurance For Texans, a local, independent insurance agent is skilled, professional and trained to spot the gaps that could cause wide chasms in your coverage when you need it the most.