As we see more hail damage here in North Texas, insurance companies have found new ways to decrease the cost of claims. They accomplish this through increasing deductible amounts, paying partial claim payouts on roof replacements instead of totaling them, and moving payouts to actual cash value if your roof has reached a certain age.
This is mean to deter the amount of claims mad and to mediate the overall claim cost.
Is there anything else they can do?
One of the things Texas home insurance carriers now do is exclude damage on your roof, gutters, and other "soft" areas if the damage is not determined to have an effect on the structural integrity of the damaged area and still has ability to protect your home. This is "cosmetic exclusion" in a nutshell.

How Did It Come to This?
Hope in the time machine to the late 90's and early 2000's. There was a loophole in home insurance policies at the time. If hail damage occurred and a claim was made, insurance carriers would pay to settle the claim.
A homeowner could expect full replacement of their damaged roof and gutters.
If the homeowner "determined" there wasn't a need to repair certain aspects, they could pocket the check. That's several thousand dollars in-pocket and certainly a nice payday for weathering some storm damage.
Hold on a minute. What about the damage to the property not being taken care of? It certainly inhibits the insurability of the property. Insurance carriers marched into action, specifically looking for ways to shore up how they determined what needs replacement.
How Do They Determine What Is Not Structural Damage?
Soft areas like window screens, gutters, and fences are notorious areas for roofers to inflate hail claims.
These contractors know it's easy to note damage and that if not replaced, it won't compromise the structural integrity or safety of the home. Insurance carriers are taking more of a focused look in order to prevent this.
Policies now include a provision the will exclude items that are cosmetically damaged.
A pockmarked gutter will not prevent it from doing the job it is intended for, so it would labeled cosmetic.
Insurance carriers can now save thousands of dollars in claim, but as the homeowner, this can be frustrating.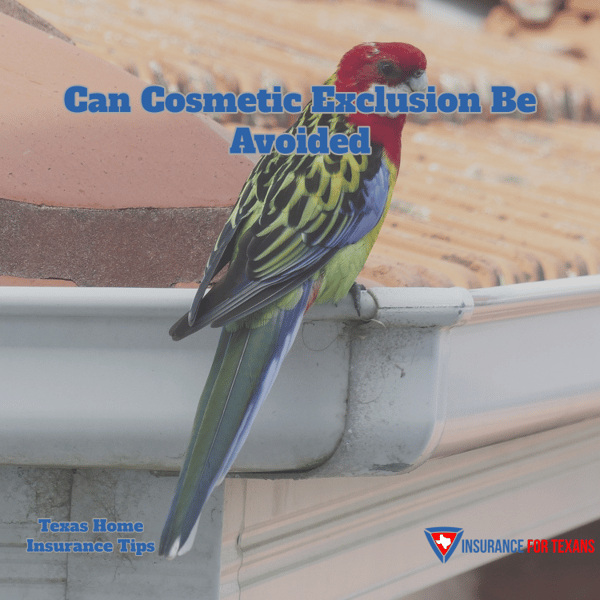 How Cosmetic Exclusion Be Avoided?
The industry isn't exempt from changes, but for right now, yes, cosmetic exclusion can be avoided. That's where we can help.
There are insurance carriers in Texas that do not build this exclusion into the policies they offer. As a local, independent insurance agent near Grapevine, we can help you to know if this is detrimental to you as a homeowner.
We can talk about cosmetic exclusions (and other topics related to your policy) to find out what policy works best for you.