Storm chasers and meteorologists have been going crazy for the last 24 hours as the prediction of big weather is once again upon us here in Texas. As a general rule, the phone activity into the World HQ of Insurance For Texans picks up with those storm chasing vehicles start rolling out. People become nervous about whether or not their home is protected from potential damage due to storm by their Ft Worth Home Insurance policy. But does it matter?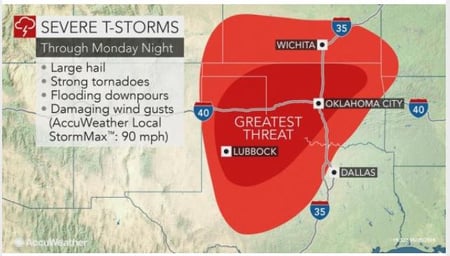 Binding Restrictions
One of the unique things about Texas, besides Whataburger, is that our home insurance policies have to account for all of Coastal situations, Mountain situations, Extreme Flash Flooding, Winter Storms including blizzards, Wild Fires, Large Hail Events, Tornadoes, Hurricanes, Swamps, and Alligators. That's a mouthful really. Since the insurance companies have to account for all of those things in a single policy, they will issue a moratorium on putting coverage in place if something large is going on in the state. That means even if you want to put a policy in place, or change one you already have, the company will prevent you from doing that. They understand that your intent is to protect against that event and that you are not likely to keep the coverage long term. The corporate people will refer to this as anti-selection. The moral of the story is to plan ahead!
Catastrophe Events
When the weather get's big, the losses tend to stack up because it hits large areas that can be populated heavily with homes. This can create large losses for the insurance companies and insureds begin to get nervous. Due to the large nature of the losses, the insurance companies will declare the storm a Catastrophe Event for their purposes. This does a couple of different things for you as a Burleson homeowner. First and foremost, it will make dealing with claims easier. The company adjusters who work in other territories or regions can be deployed to the location to expedite claim mediation and completion. This means that your life can be put back together faster! The other benefit comes in the status of those claims for future purposes.
What did he just say? Claims are classified and sent to a central database for reporting purposes. That report is called a CLUE report. Claims that are a result of those Catastrophe Events are treated very differently for rating purposes. The home insurance companies recognize that those events are largely beyond your control and the surcharge for those is, if any, is lessened to make sure that you aren't unfairly penalized. It's actually a GREAT thing.
So Does It Matter?
In the big picture of life, the big weather is going to happen with or without you. Protecting your largest investments is just smart. Insurance is part of that. However, the only real downside is requesting coverage during a moratorium or restricted period. That would prevent you from being able to protect your treasures. Beyond that, the benefits are only for those that had planned ahead. To your local independent insurance agent it is a huge deal. But your value is part of what makes you unique. And that is uniquely Texan.