Prescription drugs are a necessary part of many people's lives. This is easily understandable when you think about the amount of commercials you see or hear while watching television. If you have been on group health insurance through an employer, the cost concerns that some Texans feel has been muted for you. If you're now on the verge of retiring and don't qualify for Medicare because of age, coming to terms with prescription drug coverage on private insurance plans can be a startling revelation. The prescription drug plans can leave a lot to be desired and make out of pocket costs soar for brand-name drugs and generic medications alike whether you live in Amarillo, Austin or Dallas-Ft Worth.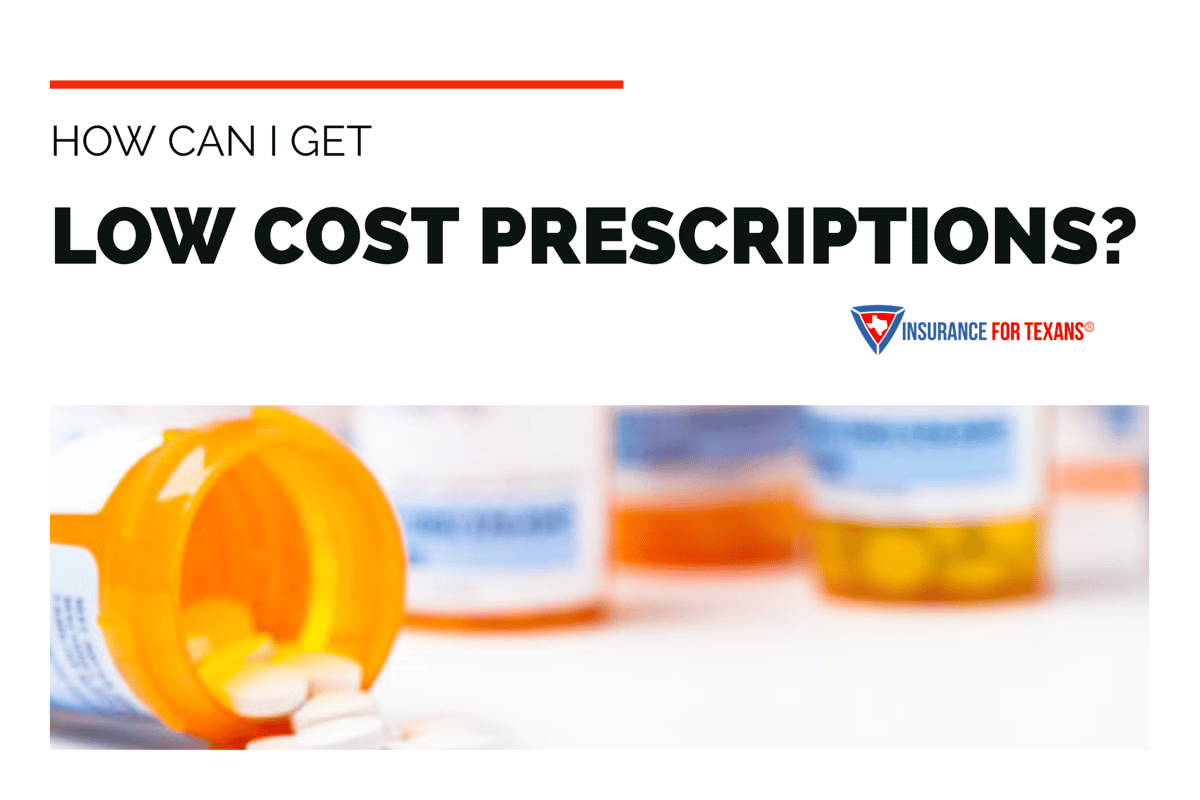 Fortunately, there are multiple options now to find lower cost prescriptions that can help make medications more accessible and affordable even if your health insurance sucks on that front. A lot of Texans are familiar with generic drug versions, but there are also payment assistance plans from drug manufacturers and government plans that can actually offset the cost of high-priced drugs. Before we talk about how to keep costs down, let's start by taking a look at some of the factors that affect prescription drug costs.
Overview of Prescription Cost Factors
The cost of prescription drugs varies greatly depending on a number of factors such as the type of medication, its strength and dosage, the location where it is being purchased from, and the amount being purchased. Forty years ago when drug manufacturers were developing simple, broad application medicines that could be sold to a majority of the population for a variety, it was easier for the manufacturer to recover their research and development of medication costs and be profitable as many people could use their drug for various different reasons. This meant that the out of pocket drug costs that we paid were much lower than today. However, over the last two decades the specificity of treatments and populations that they cover has narrowed greatly. We are now using a single drug to treat a specific condition that a smaller number of people suffer from. This means that those research and development costs are harder to recoup from that smaller number of users. As a result, we have seen beyond the normal rate of inflation as a steep escalation in the raw cost of prescription drugs.
Along with that, as the affordability of prescription drugs has diminished the health insurance companies have placed more controls on how the prescriptions are dispensed to regular Texans. They have done this through pharmacy benefit managers who control the flow and dispensing of high-priced drugs along with generic prescriptions through their preferred retail pharmacies. This has had a negative effect on the out of pocket drug costs for Texas consumers. The reason for this comes from the control of the dispensing of the medications from the pharmacy benefit managers.
This may not make sense at first, but the picture can become clearer. The pharmacy benefit managers and insurance companies push Texans to the generic version of their medication list which has a lower out of pocket cost than brand-name drugs. This is usually a good thing for Texans. However, they make this shift to the cheaper alternative while also charging higher insurance copays for generic drugs that improve the insurance company's profitability. This is usually done through Big Box Chain Pharmacies that are tied in through those pharmacy benefits managers rather than your local pharmacy.
How Texans Can Identify The Lowest Cost Prescription Sources
Finding sources of low cost prescriptions is possible with just a bit of research and effort. One option for those looking to save money on their medications is to shop around for the best price. It can be beneficial to compare prices between different pharmacies, both in person and online, as well as checking if any discounts are available from the manufacturer or any other organizations.
One excellent source to price compare your medication is through GoodRX.com. They work as a pharmacy benefits manager outside of the traditional insurance realm to help patients find the lowest cost medication in their area. One great benefit from them is that they include both name brand and generic medications available at local to you physical locations.
Another way to get lower-priced prescriptions is to ask your doctor if there are any options that could provide similar results at a lower cost. For instance, they might suggest using a lower strength or dosage of the same medication or recommending an alternative generic version. Furthermore, many drug companies also have patient drug assistance programs that can help cover costs for those who qualify based on income eligibility requirements and other criteria.
Finally, it's important to check with your insurance provider regarding coverage for prescription drugs since this can drastically reduce the cost of your medication. Insurance plans vary greatly in terms of what types of drugs are covered and how much they will reimburse so it's important to read the fine print before purchasing anything.
Generic Drug Versions
At this point, most Texans know that generic drug versions are a great way to get low cost prescriptions without sacrificing quality of care. Generic drugs have the same active ingredients as their brand-name counterparts and are subject to the same standards of safety, effectiveness, and quality control. In addition, they often cost much less than their brand-name counterparts which can make a big difference in terms of overall costs. It's important to talk with your doctor to make sure that a generic version is appropriate for you but it can be an excellent way to save money while still receiving the medication you need.
Online Pharmacies
Online pharmacies are becoming increasingly popular for those looking to get lower cost prescriptions without sacrificing quality of care. With online pharmacies, you can often get your medications at a fraction of the cost compared to traditional brick-and-mortar stores, meaning that you can save money while still receiving the same medications. Additionally, online pharmacies often offer convenience and privacy since they allow you to order your prescriptions from the comfort and privacy of your own home.
Furthermore, many online pharmacies offer additional services such as free shipping and discounts on certain medications which can help further reduce costs. While it's important to do your research and make sure that any online pharmacy you use is legitimate and safe, there are many reputable providers out there that provide excellent service and quality products.
One of the most recommended Online Pharmacies is Cost Plus Drugs. This is a service that specializes in generic medications of all types and can ship to your doorstep up to a 90-Day Supply of your regular maintenance medications. They have very transparent pricing that doesn't require any prescription assistance program or drug discount cards, and they have made filling your prescriptions incredibly easy.
Government Programs
Government programs such as Medicare and Medicaid can be an excellent way to get low cost prescriptions for those who need them. These programs are designed to help those with limited incomes pay for essential medical services, including prescription medications. With these programs, you can often get your medications at significantly lower prices than what you would pay at traditional stores. Additionally, if you're a senior citizen or disabled person, you may be eligible for additional discounts through the government's Supplemental Security Income program.
These government programs provide an invaluable resource to those who need prescription medications but don't have the means to purchase them at full price. Furthermore, they also offer peace of mind in knowing that you won't have to go without your medication due to financial constraints.
Discounts and Coupons
Discounts and coupons, often known as prescription savings cards, are an excellent way to get low cost prescriptions without breaking the bank. By taking advantage of these deals, you can save up to 50% on the costs of your medications. There are a variety of ways to find discounts and coupons, including online websites, direct mailers from pharmaceutical companies, prescription discount cards, and more.
Not only can you save money by using discounts and coupons for your prescriptions, but also you'll be able to get the medications you need quickly and conveniently. Many websites offer printable coupons that you can use at any participating pharmacy. Plus, many pharmacies have their own discount programs that are tailored towards specific medications or conditions.
Overall, discounts and coupons are a great way to get low cost prescriptions without sacrificing quality or convenience. With a little bit of research and some savvy shopping skills, you can easily find the best deals available on all types of prescription medications.
Patient Assistance Programs
Patient assistance programs are a great way to get low cost prescriptions without sacrificing quality or convenience. These programs are designed to help lower-income patients access the medications they need at reduced costs. Many drug manufacturers and nonprofit organizations offer these programs, which can provide up to 100% of the cost of prescription drugs for eligible individuals.
In addition to providing access to affordable medications, patient assistance programs often offer additional support services such as education about proper medication use, disease management guidance and even assistance with health insurance enrollment. By taking advantage of these resources, you can get the medications you need while also gaining valuable information that will help you manage your condition more effectively.
The application process for patient assistance programs varies from one program to another, so it's important to read all instructions carefully before submitting your paperwork. Most applications require proof of income and some type of medical documentation. But once approved, you can start enjoying the benefits right away!
Re-evaluating Insurance Coverage
If you're looking for a way to save money on prescription drugs, it's time to re-evaluate your insurance coverage. Many insurance plans don't provide the best coverage for prescription medications, so it's important to take a closer look at what your plan offers and consider switching if needed. Some plans have higher copays or require more expensive generics than others, so you'll want to compare different plans and choose one that meets your needs.
You may also be able to reduce costs by opting for mail order prescriptions rather than having them filled at the local pharmacy. This can often result in significant savings, as many insurance companies offer discounted rates for mail order services. Additionally, some insurers will cover over-the-counter medications, so make sure to check with your insurer before purchasing any OTC medications.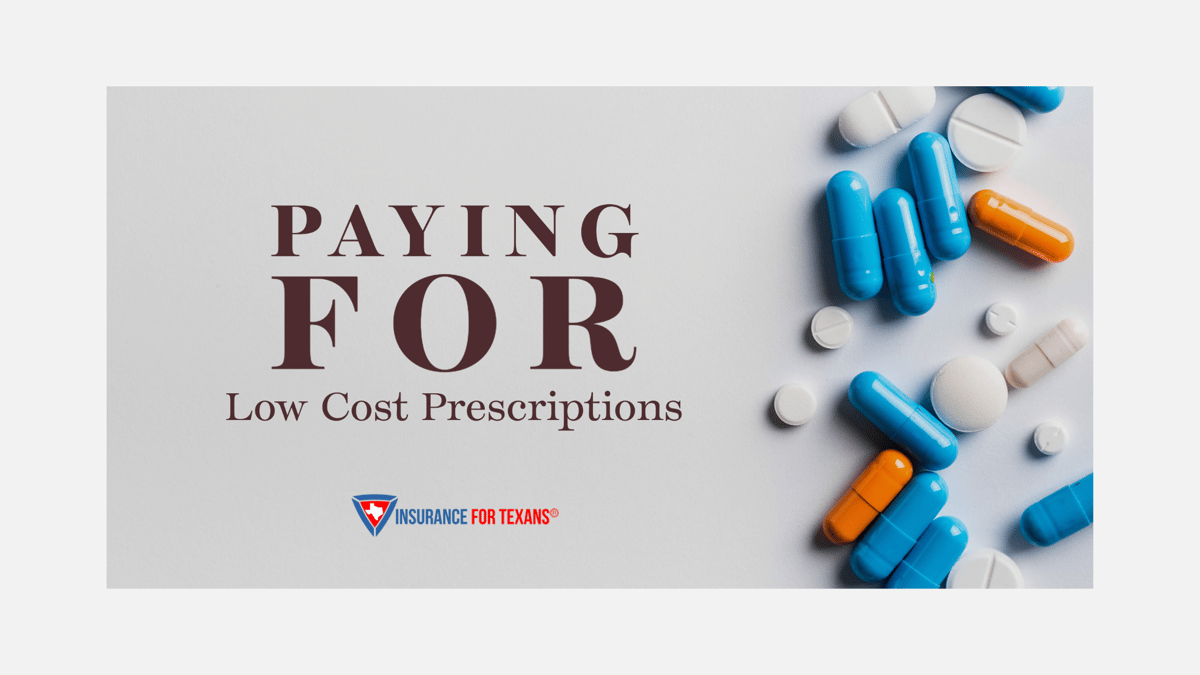 Paying for Low Cost Prescriptions
Affording a necessary prescription can be a challenge for many people, but there are ways to get the medications you need at a lower cost. One option is to ask your doctor for samples of the medication you need. Doctors often have samples on hand that they can give to patients who cannot afford a full prescription. Additionally, some pharmaceutical companies offer patient assistance programs where those in need may be able to receive their prescriptions for free or at a discounted price. Additionally, many pharmacies offer discounts on generic drugs and will match competitors' prices. If you don't have insurance coverage for your medications, it's worth inquiring about these discounts as they can lead to significant savings.
Calculating Out-of-Pocket Costs Versus Insurance Coverage Amounts
Calculating out-of-pocket costs versus insurance coverage amounts can be a daunting task. Knowing how much you'll need to pay upfront and how much your insurance will cover can help you make an informed decision on the best care for your situation. When comparing costs, look at the total amount of out-of-pocket expenses you'll need to pay for treatment or prescriptions, including deductibles, copayments and coinsurance. Additionally, consider any discounts that may be available if you purchase medication in bulk or if the provider offers a lower cash price for your medication.
Tips & Tricks For Getting Low Cost Prescription Drugs Asking About Generics First Knowing When to Switch Providers Taking Advantage Of Special Offers
Finding a way to get low cost prescription drugs doesn't have to be a daunting task. One of the best tips for finding affordable medications is to always ask about generic versions of your prescriptions. Generic drugs are much cheaper than their brand-name counterparts, so this can be an effective way for you to save money. Furthermore, if you're paying too much for your medications, it may be worth considering switching providers. Different pharmacies and healthcare providers will offer different prices on the same medications, so it's important to shop around and compare prices. Finally, make sure to take advantage of any special offers or discounts that may be available at your pharmacy – these can help reduce the cost of your prescriptions significantly! By following these tips and tricks, you'll be well on your way to getting low cost prescription drugs without breaking the bank.
If you would like help in evaluating your insurance plan and options for managing the pharmacy requirements of your chronic condition, working with an independent insurance agent can ease your mind while simplifying the comparison process. The agents at Insurance For Texans are here to help you sift through not just the complexity of obtaining your prescription coverage, but also your entire insurance plan. Click the button below to get help today with this process.