When we first published this article on the "new" Texas law that went into effect in September, 2019 there was a lot of chatter about roofing contractors, deductible payments, and insurance fraud. Here we are four years later and the same conversations are still being had, the law is still in effect, and now there are some wild changes that are going on with property insurance policies in Texas. Especially if you live in the North Texas counties of Tarrant, Dallas, Denton, Collin, and Rockwall. With the onslaught of property insurance claims in the first half of this year from hail, we felt like this was a great time to revisit the information about whether or not it is legal for a roofer to not collect a deductible from you on a applicable insurance claim.
Since inflation is the talk of the town these days, everyone is looking for places to save money. And with premiums on property insurance policies going through the proverbial roof, Texas homeowners are none too happy with inflation of both their everyday life and their insurance costs. The hailstorms rolled across North Texas this spring and early summer with ruthless abandon. We've all seen the footage of giant ice chunks falling on cows, pools, and other items on the local news broadcasts wondering if our roof was going to survive and how bad the insurance claim was going to be on our homes.
As many home insurance companies have struggled to keep up with demand, our fold friend from the Texas Insurance Code, statute Chapter 707.002, about requiring deductibles to be paid has come up again. The legislation that went into effect on September 1, 2019 was put in place in an attempt to prohibit the practice of roofing contractors not requiring payment of property insurance deductibles on claims. I have news for the Texas Department of Insurance. It hasn't stopped it at all in Dallas-Ft Worth. While this practice of not collecting deductibles has never been contractually legal, it happened. And many Texas homeowners have been all too glad to go along with it.
What Is Texas Insurance Code Chapter 707.002?
This law, which started as House Bill 2102, was passed by both Chambers of the Texas Legislature in 2019 and provided teeth to insurance companies trying to enforce Texans to pay deductibles. The law provides that it is now a violation if a contractor does not collect the contractual deductible during a repair or replacement involving an insurance claim. This provision kicks in for any of the following.
waives
pays for
rebates
absorbs
offsets
credits
otherwise assisting the insured in avoiding a monetary payment
Violations of this law are classified as a Class B misdemeanor. This means that you could actually serve up to 180 days in a county jail and/or pay a fine up to $2,000. This judgement is applicable to both the contractor or the insured.
Why Hasn't It Changed Anything?
When the law was first put into effect, many roofing contractors were at least marginally scared to violate the law not knowing how it would be enforced. They were quick to find installment plan contracts and financing arrangements that would help homeowners fund the deductible. As time wore on, many insured people began to ask about getting the deductible waived. Especially so as the less ethical roofers who operate only when major storms appear and then disappear were quick to ignore the need for the payment of insurance deductibles. As stories began to surface and even some very large roofing companies that advertise on TV reinstituted the practice, the frequency of the practice skyrocketed.
I get it. Roofs are really expensive and deductible payments are expensive. No one wants to pay the insurance deductible when they are dealing with a roof replacement. Especially in this economy. However, we would like to make a case why this is a big deal given the current state of property insurance in Texas.
Negative Effects of Deductible Waiving
Let's do some quick math. It's easy to understand that there are at least 50,000 hail claims per year in North Texas alone. With 8,000,000 people here and the number of storms that roll through in both the spring and fall, it feels like claims never stop. If we assume that the average home value is $350,000, that would make a One Percent Deductible $3,500.
If all of those 50,000 claims have a waived deductible or $3,500 the insurance company must pay out an extra $175,000,000 in claim payments on hail claims for North Texas property insurance policies alone. For those uncomfortable with that many commas, that is $175 MILLION dollars. Do you really think that the insurance companies are not going to pass those costs back on to the consumer?
We make this statement of extra claim costs because deductible eater roofers are not giving you this money out of their own pockets when they waive deductibles. They have to make a profit as well to feed their own families. So claims get inflated and payment of deductibles gets waived while the homeowners are not really thinking about it.
Fast forward to 2023 and your home insurance renewal comes in the mail and the price has shot up 40% or more, minimum deductibles are being raised beyond one percent, and your replacement cost roof settlement has been removed from your policy. As more and more insurance companies either completely exit the state or quit offering new policies, it means that your ability to secure alternate coverage goes out the window and your left with a GINORMOUS bill.
Ok! Ok! Enough doom and gloom.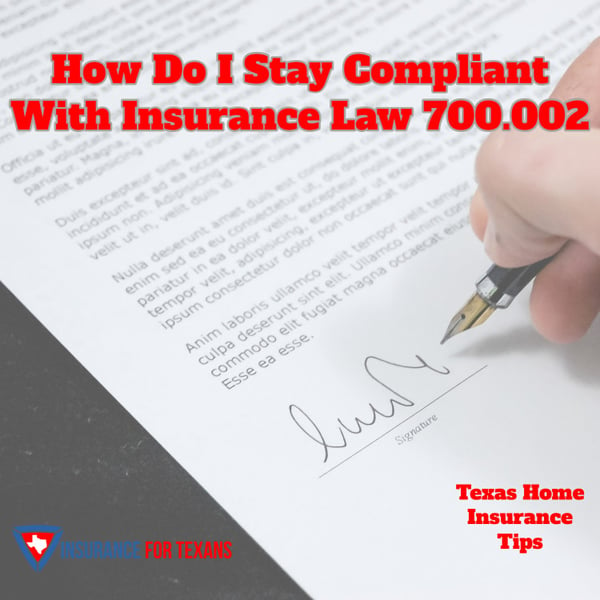 How Do I Stay Legal?
Part of the provisions that came with this policy change, included a provision to the Texas Insurance Code that requires "reasonable proof" of payment of that insurance policy deductible. Proof of payment includes a cancelled check, a photocopy of a money order receipts, cancelled cashier's check, a credit card receipt, credit card statement, or any other similar proof of payment. Simple enough, right?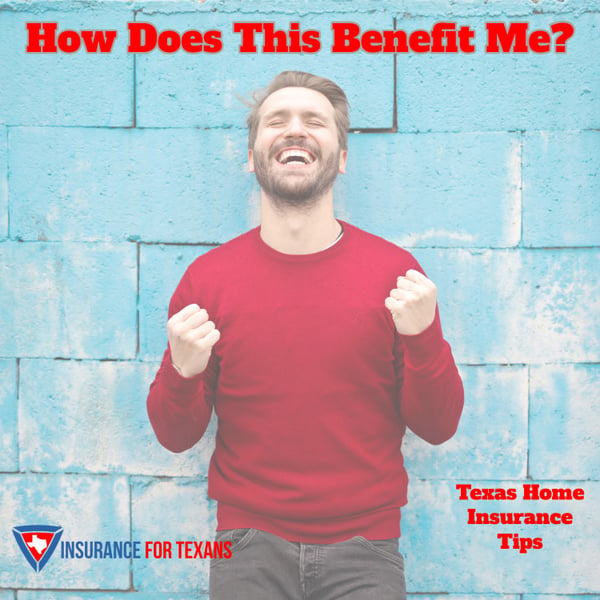 How Does This Benefit Me?
The first question that Texas homeowners always want to know is how does this law benefit me. And it's our first thought as well. The reality is that you will now be forced to pay that deductible you have been avoiding. So how does this law actually benefit you?
If a contractor or roofer offers to cover your deductible, that means that they are willing to commit fraud that can land them in jail. Should you trust them with the work to your largest assets? I can't say that I would. Legitimate roofers don't do shoddy repairs and cut corners. They are the ones you want to work with.
Texas Home Insurance companies may finally quit raising minimum deductible levels. The companies have continued to raise those requirements in an attempt to eliminate your ability to not pay knowing that there was a ceiling to how much could be written off. This particular item is incredibly important right now if you own property in North Texas or Houston.
Premium increases should be less dramatic over time. One of the reasons that we have seen massive premium increases on home insurance particularly, is that people make roof claims frequently because there was no material cost out of their pocket. We've said this for a while and it hasn't slowed down and only gotten worse. Where does it stop? Seriously?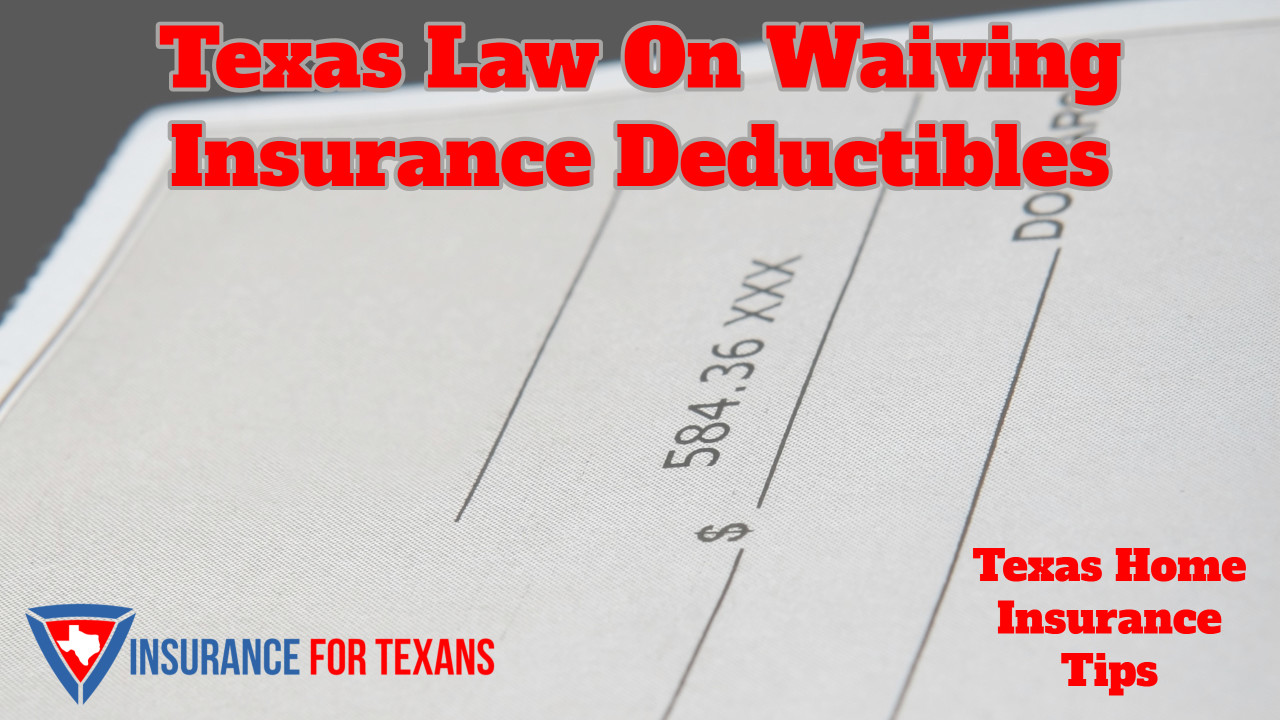 As Texas homeowners begin to navigate this process along with home insurance renewals, it is important to have clarity in expectations. Not rendering payment of Insurance Deductible on your hail claim has always been fraud, but now that activity can come with a extra penalty if the state enforces the law. While you can likely get away with business as usual with waiving of deductibles, is it worth it given all of the chaos in the home insurance marketplace today?
If you need a reputable contractor that can help with your repairs, we know many trusted partners. If you aren't sure what your deductible is for
wind & hail
or
all other perils
, now would be a great time to review all of your home insurance coverage. Insurance For Texans is a local,
independent insurance agency
that works the entire market place on your behalf to find the best coverage at the best price.
Click that button below to start a conversation about your deductible and entire home insurance policy.