When the phone rings at Insurance For Texans, we're never really quite sure how it's going to go. We have definitely experienced some strange calls. Too frequently for our tastes, we are surprised and disappointed at the the stories that Texas homeowners tell us about nightmare claim stories. People buy insurance thinking that they have coverage on their home for mostly normal disasters that come along. When they go to claim, they find out too late that they didn't have coverage. We've seen some doozies. But there is one story that takes the cake!
What Are The Common Problems With Home Insurance Policies?
Before we get to that story that takes the cake, the common problems that we see on Texas home insurance policies that come into our office generally revolve around three things. These are things we see other agents use to cut the price corners to persuade Texas homeowners to purchase a policy from them.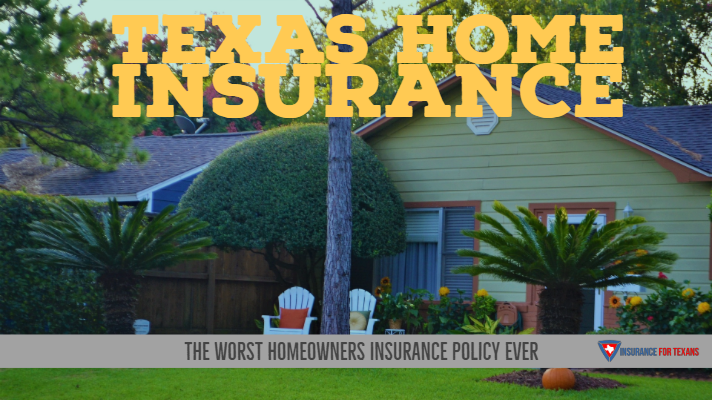 1. Wind & Hail Deductibles Set Too High
One of the most powerful pricing mechanisms on a Texas home insurance policy is that the Wind and Hail Deductible. This deductible has a major impact on the price you pay for the policy because hail is the number one claim type in the state of Texas. Because of the frequency of claim, the lower the deductible amount is set for Wind and Hail the more money the home insurance company is going to be required to shell out over time. As a result, insureds that are willing to shoulder more of the risk of those claims see substantial savings on premium payments.
However, when the deductible is set to a value that is five percent of the dwelling amount we run into problems. If the average home value is $250,000, the five percent deductible comes out to be $12,500. A roof on an average home of that value is going to cost between $10,000 and $15,000 dollars. That means that the insured will see no benefit, or very little, for this type of claim.
2. Lack Of Water Coverage
Another frequent type of claim on Texas home insurance policies is for water damage. These claims are commonplace for many Texas homeowners, and as a result produce persistent losses for the home insurance companies. Because of the numerous claims that can climb into the tens of thousands of dollars to repair homes, the home insurance companies will attempt to lower the claim costs by providing limited water coverage. This can take the form of a sub-limit for damage, or remove the coverage altogether. If your water heater explodes in your attic and you do not have coverage for the sudden and accidental discharge of water, you will not be excited that you saved 30% on your premium this year.
3. Your Roof Is Not Replacement Cost
A recent trend from some of the biggest Texas home insurance companies is to allow for your claim settlement on your roof to be either Actual Cash Value or Replacement Cost. The difference can be staggering for both premium payment and benefits received. Actual Cash value is a mechanism where depreciation will be applied to the value allotted for your roof when a claim check is issued to you after the claim is approved. That check may blow your mind.
For the claim amount to be determined, the adjuster will first determine the replacement value of the roof based on the size, slope, height, and shingle type. At that point, the depreciation factor will be applied. If you have a 30 year composition shingle and your roof is 15 years old, the depreciation factor will likely be 66% or more due to the extreme weather conditions we have here in Texas. That means you will receive 34% of the amount deemed needed for full replacement. But it get's better. Remember the wind and hail deductible from item one above? That amount will also be subtracted from the remaining 34% leaving you with pennies on the dollar to replace your damaged roof.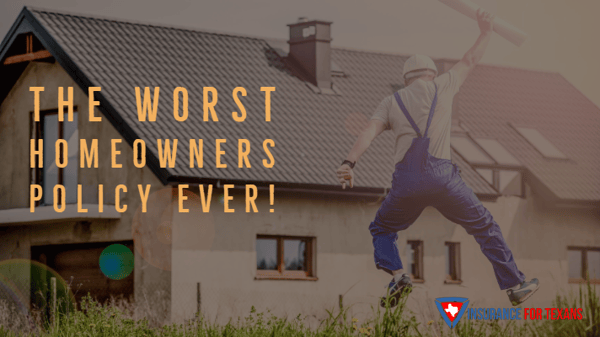 What About That Horrific Policy?
Back to our original story about the worst home insurance policy we have ever seen written for a Texan. The home in question was located in Harris county and had a dwelling value of $635,000 for a 3,200 square foot home. The home was aggressively priced for reconstruction. Where the policy went really wrong is due to the following factors.
Roof was considered Actual Cash Value!
All water damage was excluded!
There was no slab or foundation water coverage.
The Personal Property was Actual Cash Value.
And the Wind & Hail deductible was 5%.
This meant that the homeowner would never make a claim except for fire. All of the most frequent claims that do occur in Harris County were not going to be covered since they were actual cash value with deductibles over $30,000. Oh, and did we mention that the premium was almost $5,000? The good news is that Insurance For Texans was able to get this homeowner into a policy that afforded all of the best coverage at an affordable price at almost half of that previous price prior to a claim.
If you are looking to avoid this situation, work with a local independent insurance agent who can work with your unique situation. That independent insurance agent can identify your specific needs while also finding you that coverage at a great price.